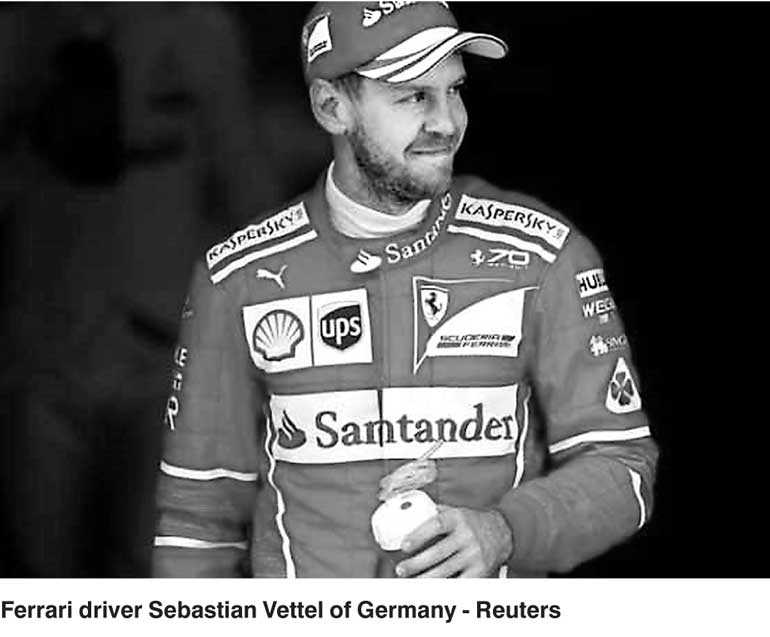 HOCKENHEIM, Germany (Reuters): Ferrari's Sebastian Vettel hopes Germany's World Cup failure could have a silver lining for the country's Formula One race this weekend.

The championship leader, racing on home soil for the first time in two years, painted a gloomy picture of the future, however.

This year is the last of the current contract and talks appear deadlocked, with Hockenheim circuit organisers unwilling to commit to hosting fees that expose them to financial risk.

"I hope that because of the fact that we failed in football this year that people saved a little bit of money on barbecues and so on and they can come here and go camping this weekend," said Vettel, who grew up in nearby Heppenheim.

Germany, the 2014 soccer World Cup winners, failed to get beyond the group stage at the recent finals in Russia in a major upset.

The country's grand prix once drew huge crowds, most of them there to cheer on seven times world champion Michael Schumacher against a backdrop of campfires, vast quantities of beer and sausages.

The crowds have dwindled since the Schumacher era, despite Vettel winning four titles between 2010-13 and the domination of Mercedes with Nico Rosberg taking the crown in 2016.

"Maybe the nation is a little bit full or tired of racing, I don't know," ventured Renault's Nico Hulkenberg, now one of just two German drivers on the grid but still without a podium finish to his credit in 145 starts.

"Germans are a bit spoiled when it comes to that, because we've always been successful, we've always been around...but I think ultimately it's the commercial aspects that play the biggest part."

Vettel, winner of four races this season and eight points clear of Mercedes' Lewis Hamilton in the standings, agreed it was all about the money.

"We are a car nation," he said. "I think probably it's to do with the fact that generally you have to pay money to get a grand prix.

"Other nations are prepared to pay money. Other countries are prepared to fund the grand prix and I think that's where the main problem is.

"Germany is not ready to spend money on having the grand prix, to advertise Formula One, to advertise racing, to advertise Germany, to attract people coming here."

At one point, when Schumacher was at his peak, Germany had two races a year. Hockenheim and the Nuerbuergring then alternated before the latter fell away due to financial difficulties and a change in ownership.

Vettel said it was not for want of any effort by the organisers.

"I know the track well here, I know the people that work for it and they are working very hard for the event to get people coming here and it's tough for them to actually make some money," he said.