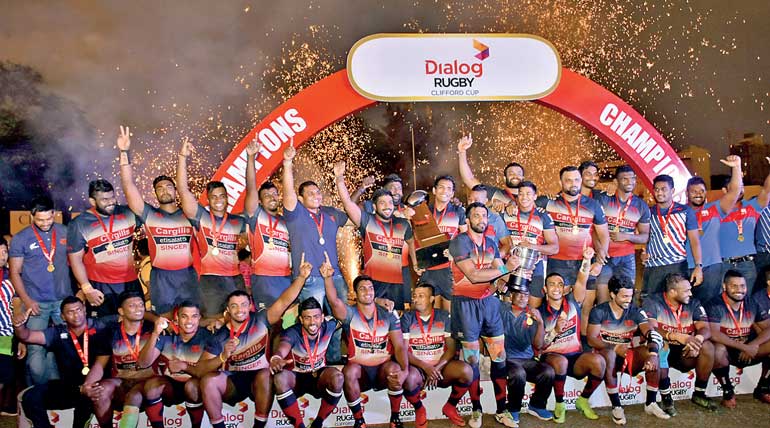 By Shamseer Jaleel

What a season 2017/2018 turned out to be for the Kandy Sports Club. With a history of over 135 years, the club, which won their first cup only in 1992 under Maurice Joachim, secured the Clifford Cup, the oldest rugby tournament conducted by Sri Lanka Rugby (SLR).

The transformation of Kandy took place this year when an issue in leadership arose at CR&FC between Inthi Marikar and Lasitha Gunaratne. Many Kandy-based players plus a few Colombo players shifted to Nittawela along with their local hero Inthi Marikar.

From there onwards there was no reverse gear for Kandy. Winning trophies in bunches was a habit for them. Many clubs who loved to play in Nittawela before the '90s hated to travel to Kandy as the home team's winning streak runs into decades. Kandy scored 560 points this season, which is 200 points more than the second team which was Navy in the league.

This year Kandy played under dynamic leader Gayan Weeraratne. A silent killer who initiated many try-scoring moves for the club. Although he did not score many tries and have his name on the sheet, the moves initiated by him ended in many tries for the upcountry club. He got a super team with Yakoob Ali, Manchanayake, Damith Dissanayake and Uchithra Jayasuriya manning the front line. Dimithri, Sayuru Anthony, Tharindu Chanaka, Shashika Jayawardena, Jason Dissanayake and Shehan Pathirana were a towering strength for the side while Buwanka Udangamuwa at number 8 position was a headache for many clubs this season.

Opposing teams needed more than two players to stop Buwanka who was very tough when on attack, splitting many defences. Scrum half Roshan Weeraratne missed a major part of the season due to his shoulder injury and was replaced by the experienced Sooriyabandara.

The three-quarter line was vertically full of national players. Sri Lanka rugby legend Fazil Marija, Dhanushka Ranjan, Nigel Ratwatte, Richard Dharmapala, Lavanga Perera, Anurudha Wilwara and Thilina Wijesinghe was untouchable. Given them the ball and they will create space. Due to the high quality of these players, Arshard Jamaldeen and Oshan Perera hardly got a full 80 minute game.

This year was Marija's last year for Kandy, a club he has represented since the time he was a schoolboy. He never crossed over to any clubs in his rugby career of 15 years.

They did not drop a single league game in their 14 encounters this season where they travelled seven times to Colombo and the Colombo sides needed to make only one visit to Kandy since Kandy is the only outfit in the top league.

Even going into the Clifford Cup, Kandy, playing all their three matches at a neutral venue, showed their class winning all of them in a total of 15 matches. They won the Dialog League for the 19th time while they clinched the Clifford Cup for the 22nd time.

The club was coached by former Kandy SC and national number 8 Sean Wijesinghe who rendered yeoman job for the club after taking over from his mate Johan Taylor. The rugby chairman was former Antonian player Lasantha Wijesuriya with former Isipathana player Kapila Silva doing his job well as the manager of the outfit.

Cargills was the main sponsor of the outfit with Singer and Etisalat chipping in with their portion. For the club to be its standard in its rugby there is a man behind its success. He is none other than the former Royal scrum half and CR&FC player and former President of the Sri Lanka Rugby Football Union (SLRFU) Malik Samarawickrema.

Kandy Trustee Samarawickrema, speaking to the Daily FT, said: "Having watched rugby for about 55 years, I have no doubt that Fazil is the best Number 10 I have seen. He is a complete player, brilliant in attack and aggressive in defence. In addition he has great vision."

Samarawickrema added that he was one of the best rugby players produced by the country.