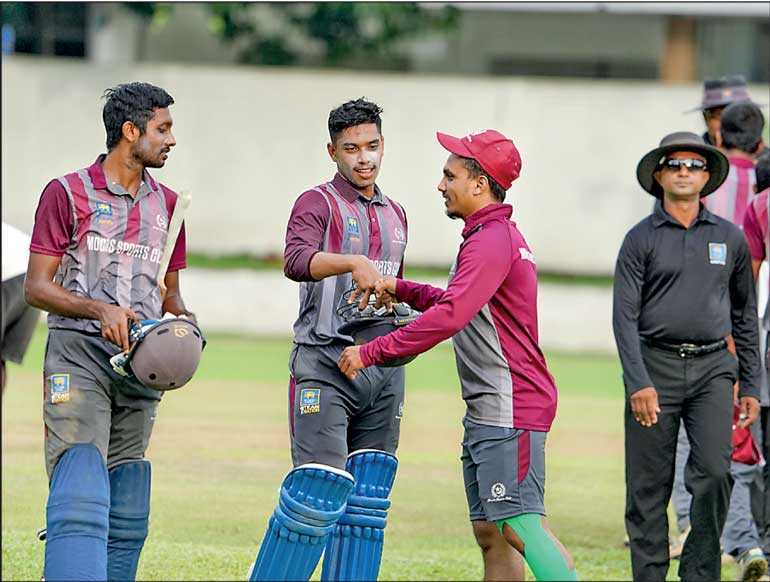 Moors SC vying for the top spot, celebrate a win in the SLC Major Club Youth (U-23) tournament
12 matches in the weekend to decide semi-finalists in SLC Major Club Youth (U-23) Tournament.
By Sa'adi Thawfeeq

Going into the final weekend of the SLC Major Club Youth (Under-23) tournament league stage, there are no clear qualifiers for the four semi-final places which means the matches scheduled to be played tomorrow (Sunday), will decide the top four group leaders who will eventually go through to play in the knockout stage.

Badureliya CC by inflicting the first defeat on Army SC on Thursday, have put themselves in contention for a place in the semi-finals from Group A. Their win has taken them one point behind Army SC with 18 points. Both teams have played five matches each and how the two teams fare on Sunday will decide who will go through to the semi-finals. Army SC host BRC (15 points) at Panagoda and Badureliya CC play Police SC at Surrey grounds, Maggona. Sebastianites are also making a late run to qualify. With 15 points from 5 games they host Nugegoda S&WC at De Soysa Stadium, Moratuwa. Should Badureliya and Army falter they are in with an outside chance.

Group B sees a three-way tussle with Lankan CC, Air Force SC and last year's finalist Chilaw Marians in the running for the top berth. Lankan CC who head the group with 12 points and possess the best net run rate, play lacklustre Panadura SC who are without a single win, at Panadura; while Air Force who also have 12 points and Chilaw Marians (10) will battle it out at the Marians stronghold at Katunayake. Chilaw Marians lost a golden opportunity of securing the top berth when they were beaten by Ragama CC on Thursday.

Defending champions Colts who lead Group C are hotly pursued by Moors SC who trails them by five points. Since losing their opening game to Colts, Moors SC has come back strongly, winning their next three matches on the trot. Colts come up against NCC at Havelock Park while Moors SC who surprised NCC on Thursday has a relatively easy game against Kalutara TC at Mattegoda. Neither Colts nor Moors can afford to lose their matches if they are to head the group.

Group D sees a tussle between Tamil Union and SSC. Both teams have 24 points each but Tamil Union head the group on a better net run rate. SSC holds a slight advantage over Tamil Union as they have a match in hand against Bloomfield at the SSC. A win for them will automatically qualify them for the semi-final, but a loss will certainly give Tamil Union who have completed all their group fixtures the chance to qualify. Even a no-result which carries 2 points will see SSC through.

Only one match is listed for today and a card of 11 for tomorrow.

The semi-finals are scheduled for 7 October and the final for 11 October.