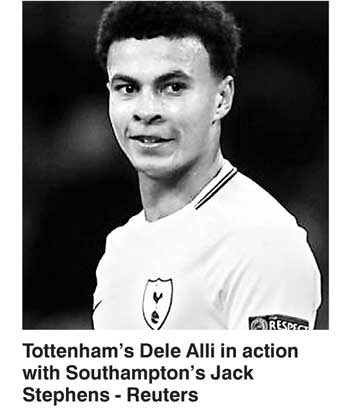 Reuters: Tottenham Hotspur midfielder Dele Alli's fluctuating form this season is only temporary and he is confident he will be able to replicate the same level of play of his first two seasons with the north London club. The 21-year-old has scored four league goals with two more in the Champions League but has faced criticism in the first half of the season for not being effective in games.

"Some people think if you're not scoring or assisting then you're playing badly, but I criticise myself all the time," Alli told the Daily Mail. "I always think I can do better, I can do more for the team, so it's just about working on myself and my own game." Alli scored 10 league goals in 33 games in his breakthrough season at the club and followed that up with 18 in 37 appearances last season. "At 21 years of age, when you set your standards as high as I did in the last two years, it's not always the case that you're going to be able to reach them all the time. "People's opinions are changing all the time and you'd be more worried if the other fans liked you as a player. When your own fans start disliking you then it changes, and you think about it a bit more." Alli produced his best performance of the season in the 5-2 defeat of Southampton on Tuesday, scoring a goal and providing assists for two more and believes he has turned a corner. "My form is not really something I think about too much, but it's always nice to prove people wrong."

Tottenham, who are fifth in the table, face bottom side Swansea on Jan. 2.