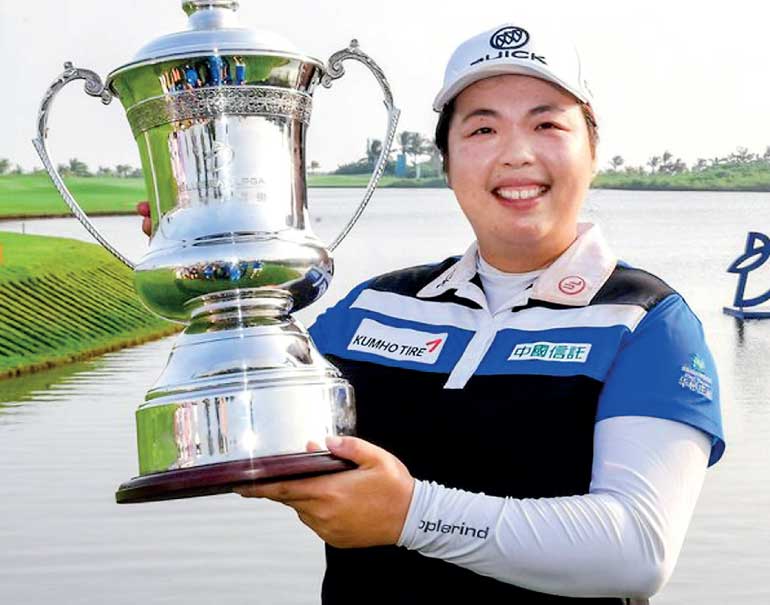 China's Feng Shanshan poses with the trophy after winning the Blue Bay LPGA golf tournament at Jian Lake Blue Bay Golf Course on China's southern Hainan island on November 11, 2017 - AFP
AFP: Feng Shanshan hopes to inspire a generation of Chinese golfers after becoming the first player from the country to reach world number one.

No man or woman from China had ever sat atop the golf rankings, but that changed on Saturday when the 28-year-old Feng triumphed on home soil at Hainan Island to claim a second successive LPGA Tour victory.

Her ascension to number one was confirmed this week, underlining China's growing influence in a sport that was banned under Mao Zedong.

"It's the longest day in my life to wait for the update of the world ranking," Feng told LPGA.com.

"When I finally see the Chinese flag on top of the ranking I feel all the efforts over the past 18 years on golf is worth it.

"I really enjoy the moment and hopefully this could encourage a younger generation in China to go for this sport." Feng's nervy one-shot victory on the southern Chinese island followed her successful defence of the Japan Classic title a week earlier. Victory in at the Blue Bay LPGA in Hainan propelled her from three in the world to top spot at the expense of South Korean rookie Park Sung-Hyun, who held the honour for just one week.

Feng, the 2016 Rio Olympic bronze medallist, now boasts nine LPGA victories, one of them a major.

She is the fifth player to hold the number one place in 2017, following New Zealand's Lydia Ko, Ariya Jutanugarn of Thailand, Ryu So-Yeon of South Korea and her compatriot Park.