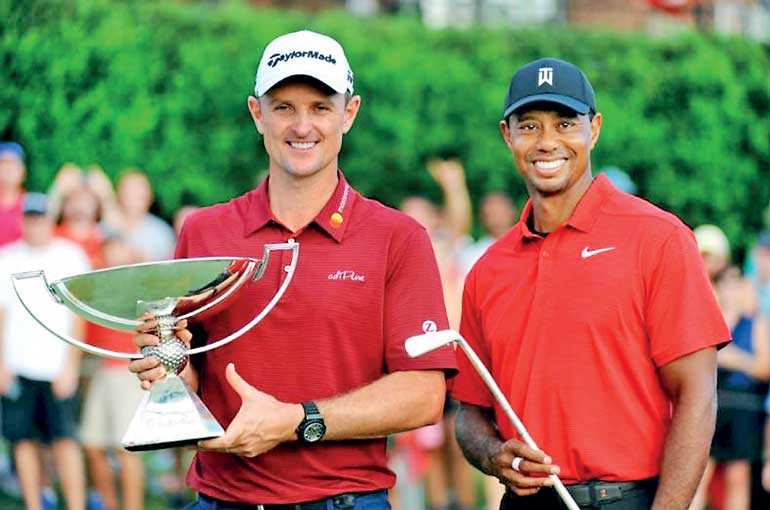 Justin Rose holds the FedEx Cup and Tiger Woods (right) holds the Calamity Jane, a replica of Bobby Jones putter, after winning the Tour Championship golf tournament at East Lake Golf Club - USA TODAY Sports
Reuters: Tiger Woods was moved to the brink of tears after capturing his first title since 2013 with a two-stroke triumph at the Tour Championship in Atlanta on Sunday that proved he was far from washed up at the age of 42.

Tossing aside five years of career-threatening injury woes, Woods reasserted his status as the best frontrunner in the history of the sport, leading throughout the final round and finishing at 11-under-par 269 at East Lake.

With the massive gallery chanting his name as they stampeded the final fairway in scenes reminiscent of British Opens of yesteryear, Woods moved within two victories of Sam Snead's all-time record of 82 PGA Tour titles.

"I was having a hard time not crying coming up the last hole," he said.

"All of a sudden it started hitting me I was going to win the tournament.

"I've been sitting on 79 (wins) for five years now. To get 80 is a pretty damn good feeling."

After carding 71, Woods walked off to a big kiss from girlfriend Erica Herman and a hug from agent Mark Steinberg as security tried to keep the frenzied fans at bay.

The victory capped off a season that started with questions over whether Woods, now 10 years removed from his 14th major title, would even be able to play a full schedule after undergoing spinal fusion surgery in April 2017.

"My body was a wreck," recalled Woods, who hoped the operation would alleviate debilitating back and leg pain.

"The low point was not knowing whether I would be able to live pain-free again.

"I was beyond playing. I couldn't sit, I couldn't walk, I couldn't lay down without feeling the pain in my back and leg."

That the procedure worked was evident on Sunday as Woods was never seriously challenged after starting the day with a three-shot cushion over Rory McIlroy and Justin Rose.

McIlroy, playing with Woods, quickly dropped out of contention with an error-strewn driving performance that ultimately ended with a 74, leaving world number one Rose as the only realistic threat.

The Englishman also struggled, however, and Woods did what he used to do so brilliantly in his prime, keeping his card clean, on the front nine at least, and forcing his pursuers to come and get him.

He drained a 10-foot birdie for a confidence-boosting start at the first, and then parred the next eight holes, using a deft short game and a hot putter to extricate himself from trouble on a couple of occasions.

The win preserved Woods's perfect record of never having lost after leading by three shots or more going into the final round, a record he extended to 24-for-24.

Rose, meanwhile, received a $10 million consolation prize in the form of the FedExCup, which is awarded to the winner of the tour's season-long points race, after a birdie at the 18th gave him a 73 for a share of fourth.

With his 43rd birthday approaching in December, Woods remains a long shot to win five more majors to overhaul the career tally of Jack Nicklaus even if the Golden Bear himself was not ruling it out.