REUTERS: Legendary Indian cricketer Sachin Tendulkar on Thursday (February 08) recalled the role of his coach Ramakant Achrekar in his initial years and revealed that his master never said "well played" to him.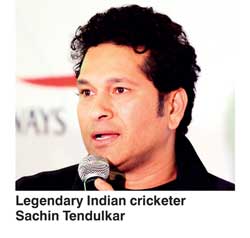 Tendulkar, the most prolific international run scorer in cricket history, made the comments during a book launch in western Mumbai city.

He spoke at length about the contributions of his father, mother, wife and mentor in his career and said coaches were like parents as one tends to learn so many things from them.

Tendulkar, who made his debut for India against Pakistan in Karachi in 1989 as a curly haired 16-year-old, has most batting records in his kitbag, and enjoys unmatched adulation in cricket-crazy India.

He has scored the most runs in Tests and one-day internationals and his 51 Test centuries and 49 ODI hundreds are also records.