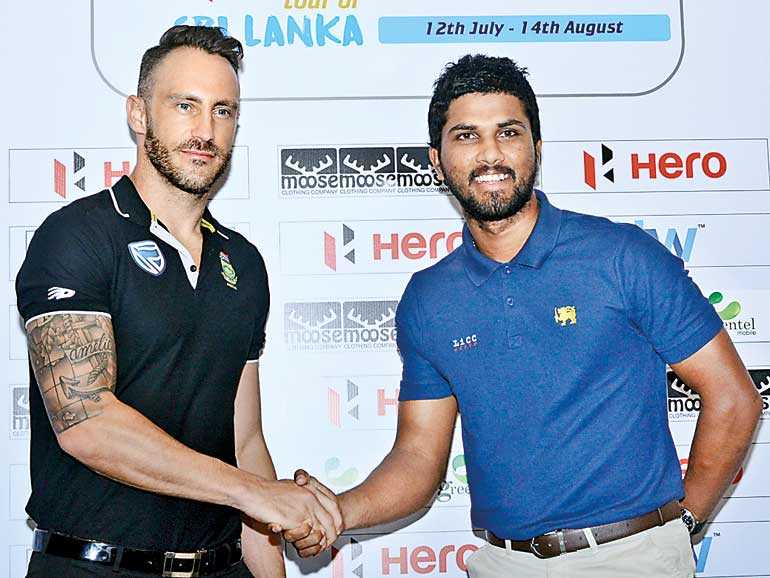 South Africa Team Captain Faf du Plessis (left) and Sri Lanka Test Captain Dinesh Chandimal at the press conference yesterday
By Madushka Balasuriya

Sri Lanka and South Africa will both be seeking clarity on what exactly constitutes ball-tampering ahead of the first Test in Galle next week, with both sides likely to exercise extra caution in the wake of newly-announced ICC sanctions.

The International Cricket Council last week announced stronger punishments for players found guilty of ball-tampering, with bans of up to six Test or 12 ODIs now a possibility. To put that into context, Sri Lankan captain Dinesh Chandimal, who was found guilty of ball-tampering in the West Indies prior to the rule changes, was handed a one Test ban and fined 100% of his match fee. Meanwhile, South Africa captain Faf Du Plessis, who was found guilty of the same in 2013, was fined 50% of his match fee at the time - a more lenient sentence as he had not contested the charge, unlike Chandimal.

Speaking at a media briefing in Colombo last evening, both captains spoke of the need to clarify the precise rules surrounding players eating sweets on the field, especially with media and umpire scrutiny set to be at an all-time high.

"I'm not clear yet on that matter. The ICC obviously made the penalties a lot stricter, but they still haven't said what is allowed and what isn't allowed," noted Du Plessis. "Is chewing gum allowed? Are you allowed mints in your mouth? Hashim Amla has said that he likes sweets in his mouth - and it's a long time in the field, so there's nothing wrong with that. For me, I need clarity still, and I'm looking forward to speaking to the umpires before the game."

South Africa's Sri Lanka tour press conference at the Mövenpick Hotel, Colombo, yesterday. From left: South Africa Head Coach Ottis Gibson, South Africa Team Captain Faf du Plessis, Sri Lanka Cricket CEO Ashley De Silva, Sri Lanka Test Captain Dinesh Chandimal, Sri Lanka Team Batting Coach Thilan Samaraweera and Abans Auto representing Hero Moto Corp Brand Manager A. A. Lakmal


Added Chandimal: "We need to speak to the officials and umpires before the game, and like Faf said, we need to clarify whether we're able to take sweets on to the field, at what time we can consume them, or whether we're only allowed to shine the ball after eating the sweets completely. All these things need to be clarified."

In the cases involving Du Plessis and Chandimal, both players were found to have been sucking on sweets prior to shining the ball with saliva, a method believed to increase the duration of which the ball retains its shine. Du Plessis, who has been an advocate of stronger penalties for ball-tampering, welcomed the sterner sanctions, but also spoke out on the need to differentiate between the degrees of severity in issues of ball-tampering.

"What you do with the ball, as you've seen in the series involving Australia [where sandpaper was used to scuff the ball], for things like that the penalties are going to be much harsher. And I expect that you'll see less of that in the game as a result," he said.

"But, if you put something in your mouth and shine the ball, I don't believe it's as serious. That's just my opinion. But, at least with these stronger penalties now, when someone has the opportunity to do something with the ball, they might think twice because you're going to miss a lot of cricket. So, you might see that part of the game move a little in a different way."

The South African captain also called for consistency in the applying of the law. Every documented case of ball-tampering has been taken up against visiting teams, a state of affairs solely down to the fact that it is up to the host broadcaster to provide video evidence of the infraction, something they are unlikely to do if it incriminates the home side.

When asked if this conflict of interest was an issue, Du Plessis said: "Yeah, I've said that many a time. As a captain of any team, you want consistency for all teams and you want clarity. As I said, it's important that everyone understands what is allowed and what isn't so you don't have the captains going to the umpire and saying 'hang on, why are you letting that happen but you're doing this to this team?' You just want consistency."

The first Test gets underway in Galle from 12 - 16 July.
Pix by Daminda Harsha Perera