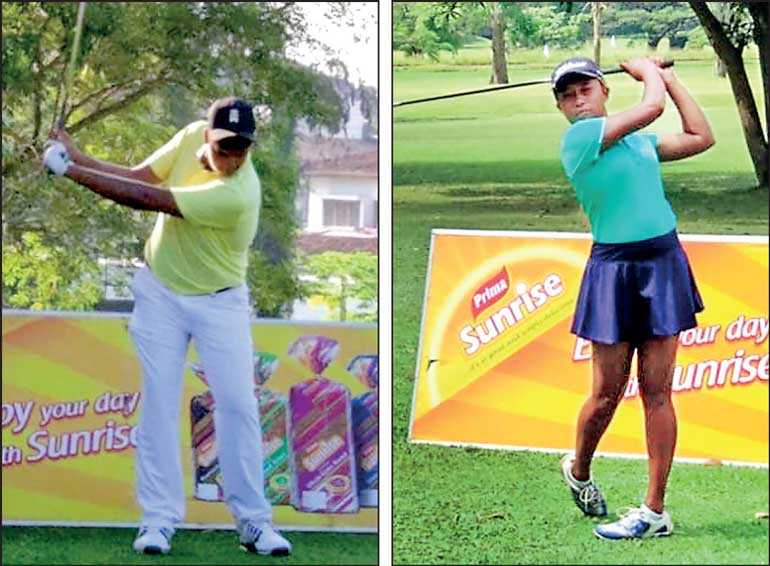 ---
Taniya Minel Balasuriya fired an opening round 69, 3 under par returning the day's best score to take a clear lead in the Prima Sunrise Open Junior Championship Girls Gold and Silver Division Age group Category 15-18+, which teed off at the Ridgeways – Royal Colombo Golf Club Course, with 72 juniors participating in different age group categories.

Taniya Minel led the Girls' Gold Division Age Category of 15-18+ ahead of Kayla Perera's 9 strokes behind the leader, with Sherin Balasuriya in 3rd place on 80. Arika Wickramasinghe secured 4th place on 89.

Nirekh Tejwani, with the 1st Round second best card of 72, took the lead in the Prima Sunrise Junior Open Championship Boys' Gold Division Age Group Category 15-18+, four strokes ahead of Yannik Kumara on 76, K. Danushan 77, Shanel Binushka 80 and Levon Niyarepola 82, comprising the top five in the Boys' category.

In the Silver Division Boys' Age Group Category 12-14+, K. Danushan took the lead with a 77 three strokes ahead of Shanal Binushka on 80, followed by G. Abinav Basker on 85.

Reshan Algama took a four stroke lead from Kaya Daluwatte in the Bronze Division Age Group Category 10-11+ over 14 Holes. Varun Fernando 66, Kvahn Tejwani 67 and N. Abdul Rahuman (NEGC) 69 appear to be a formidable challenge in the Bronze category though Reshan and Kaya are favoured to fight it out to the last hole of the 3 Round Championship.

The Copper Division for the Age Group Category 9 and Under over 9 holes had a close two way battle between Thejas RathisKanth – 46 and Kaiyen Johnpillai – 47 well clear of 3rd placed Aradhi Samaratne on 62.


Prima Sunrise Junior Open Championship 2019

Gold and Silver Division – Girls

Taniya Minel Balasuriya 69

Kayla Perera 78

Sherin Balasuriya 80


Gold Division – Boys Age Group 15-18+

Nirekh Tejwani 72

Yannik Kumara 76

K. Danushan 77

Shanal Binushka 80

Levon Niyarepola 82


Silver Division Age Group 12-14+

K. Danushan 77

Shanal Binushka 80

Abinav Basker 85

H.P. Alokshana Weerasinghe (Anu) 87

L.G. Thanuja Kalhara (Anu) 87

Pranav Muralitharan 88

F. Imran 90


Bronze Division Age Group 10-11+ (14 Holes)

Reshan Algama 60

Kaya Daluwatte 64

Varun Fernando 66

Kvahn Jaohnpillai 67

N. Abdul Rahuman (NEGC) 69


Copper Division Age Group 9 and Under (9 Holes)

Thejas Rathis Kanth 46

Kaiyan Johnpillai 47

Aradhi Samaratne 62