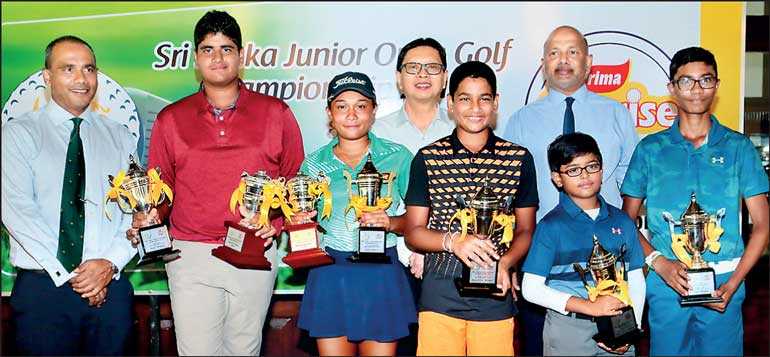 Royal Colombo Golf Club Captain Shiran Fernando, SLG President Rtd. Air Chief Marshall Harsha Abeywickrema, Ceylon Agro Industries General Manager Shun Tien Shing, Gold Division boys' winner Nirekh Tejwani, Copper Division winner Thejas Rathis Kanth, Bronze Division winner Reshan Algama, Silver Division winner K. Danushan, and girls' winner Taniya Minel Balasuriya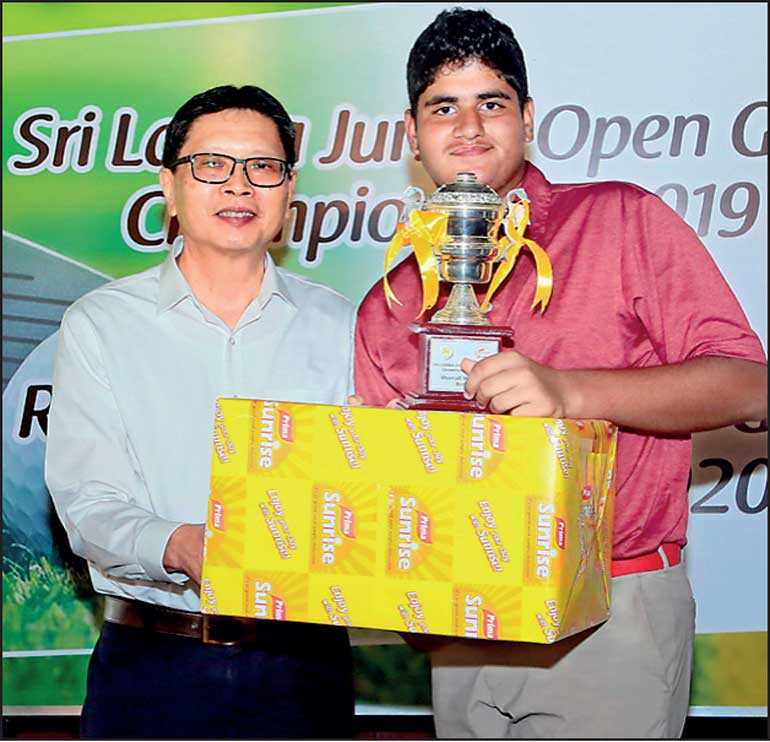 Prima Sunrise Bread General Manager Shung Tien Shing and Sri Lanka Junior Open boys' winner Nirekh Tejwani
---
Nirekh Tejwani Junior Boys' Champion
Reshan Algama Junior Bronze winner, Thejas Rathiskanth wins Copper title
Sri Lanka Junior Open Golf Championship sponsored by Prima Sunrise Bread
Three days of competitive golf sponsored by Prima Sunrise Bread unearthed quite a few rising golf stars as the 12th consecutive Sri Lanka Junior Open Golf Championship concluded at the Royal Colombo Golf Club, amidst an enthusiastic gathering and an elegant prize-giving ceremony preceded by a sumptuous lunch hosted by the sponsor.

Over 90 junior golfers ranging from the Nine and Under to the 18+ age groups vied for top honours in four age group divisions representing the Nuwara Eliya Golf Club, Navy Junior Golf Academy Welisara, Victoria Golf Academy, Kandy, Anuradhapura Junior Golf Academy, Shangri-La Hambantota Junior Golf and RCGC Junior Golf, closely followed and intently cheered on by very keen parents and many golfing promoters and well-wishers.

A high standard of golf was on display with Taniya Minel Balasuriya, a member of the Sri Lanka women's golf team which won the team gold medal at the recently concluded South Asian Games in Nepal, shooting a three under par 69 on day one, followed by an even par round but blew up like in the Nepal final round to return a final round of 82. In spite of this, she won the Girls' Junior Champion title by eight strokes over Kayla Perera.

In similar fashion, Nirekh Tejwani was two under par in the final round after 14 holes, which made Tejwani literally only two over par for 50 holes of the 54 hole championship, but, probably feeling the pressure, he dropped nine shots over the last four holes. Nonetheless, Tejwani had enough of an early lead to be crowned Boys' Junior Open Golf Champion, a further nine strokes clear of runner-up Yannik Kumara.

K. Danushan, a definite future superstar, captured the Boys' Silver Division for the 12-14+ age group at a canter, beating runner-up Abinev Basker from Bangalore by 16 strokes and third-placed Shanal Binushka, a further three strokes behind.

Danushan, who was also teeing-off the black markers (same as the Gold Division), performed incredibly with a three-round aggregate of 229, four strokes to the good of the runner-up in the older Gold Division age group.

Danushan's consistency and an aggregate of 16 over for three rounds off the black tee markers speaks volumes for his potential, with him practically playing to a formidable 5 handicap.

The Bronze Division for the 10 -11+ Boys' and Girls' age group competing off the same tee marker, saw the closest tussle in the Junior Open Championship, played over 14 holes per round. Reshan Algama held his nerve throughout the three rounds but could not relax as Kaya Daluwatte played very courageously, stalking Algama all the way. However, Algama did well to hold on to the lead from day one until the final hole in round 3 and finally beat Daluwatte by a comfortable six strokes. However, Kaya earned the runner-up position, nine strokes clear of Kvahn Tejwani.

In the Copper Division for Junior Boys' and Girls' Nine and Under age group, Thejas Rathis Kanth held the lead from start to finish to become the Copper Division winner by seven strokes from Kaiyen Johnpillai, who was a clear runner-up.

The prize-giving was preceded by an excellent video tribute to the Sri Lanka ladies' team which won two gold medals at the recently concluded SAF Games in Nepal.

Junior Open Girls Champion Balasuriya, who was a member of the ladies' medal-winning team, encouraged all the aspiring young juniors gathered at the 12th Sri Lanka Junior Open Golf Championship.

"Taniya Minel is the best example of junior golf, laying the foundation to become great. The next target is to win medals at the Asian Games coming up in China in 2021," said Junior Golf Sri Lanka Chairperson Niloo Jayatilake. Chief Guest Prima Sunrise Bread General Manager Shung Tien Shing said that Prima Ceylon was proud to be associated with the progress and development of junior golf over a period of 12 years, watching the juniors grow and flourish into top golfers.

Sri Lanka Golf Union President Rtd. Air Chief Marshall Harsha Abeywickrema thanked Junior Golf Chairperson Jayathilake for her untiring dedication to develop junior golf and encouraged all the juniors to believe in themselves and work hard and imagine the success they could have, which would help to achieve any dream they had in life.

The Captain of the Royal Colombo Golf Club, speaking at the occasion, congratulated all the winners and encouraged all other participants to smile, train hard and come back stronger next year.

Avancka Herath - RCGC Immediate Past Captain and Sri Lanka Golf Union Council Member; Priath Fernando - Past President, SLGU and Council Member; and Nishan Navaratne - Honorary Secretary, Sri Lanka Golf Union together with Chief Guest Shing and Abeywickrama gave away numerous awards. All participants received gift packs from Prima Sunrise Bread and certificates of participation presented by RCGC Lady Captain Shirani Buffin. Well-wishers Shyama Perera, Usha De Silva and Pawan Tejwani gave away special awards for the 'Future Rising Stars' at the 2019 Junior Open. H.P. Alokshana Weerasinghe from the Anuradhapura Junior Academy, F. Imran of NEGC and Shanal Binushka of Colombo received the special awards.
Results:
Sri Lanka Junior Open Golf Championship Winner Boys -
Nirekh Tejwani 224 (72, 74, 78)
Sri Lanka Junior Open Golf Championship Winner Girls -
Taniya Minel Balasuriya 223 (69, 72, 82)
Gold and Silver Division (Age 12-18+) Girls – 18 Holes X 3 Rounds
Winner: Taniya Minel Balasuriya 223 (69, 72, 82)
Runner-up: Kayla Perera 231 (78, 76, 77)
3rd Place: Sherin Balasuriya 239 (80, 78, 81)
4th Place: Arika Wickramasinha 268 (89, 85, 94)
Gold Division (Age 15-18+) Boys – 18 Holes X 3 Rounds
Winner: Nirekh Tejwani 224 (72, 74, 78)
Runner-up: Yannik Kumara 233 (76, 81, 76)
Third Place: Levon Niyarepola 235 (82, 73, 80)
Fourth Place: Himal Randima 269 (91, 92, 86)
Silver Division (Age 12-14+) Boys – 18 Holes X 3 Rounds
Winner: K. Danushan 229 (77, 75, 77)
Runner-up: Abinev Basker (Bnglr) 245 (85, 81, 79)
Third Place: Shanal Binushka 248 (80, 81, 87)
Fourth Place: Alokshana Weerasinghe 264 (87, 92, 85)
Bronze Division (Age 10-11+) Boys and Girls – 14 Holes X 3 Rounds
Winner: Reshan Algama 178 (60, 59, 59)
Runner-up: Kaya Daluwatte 184 (64, 57, 63)
3rd place: Kvahn Tejwani 193 (67, 62, 64)
4th place: Varun Fernando 201 (66, 68, 67)
Copper Division (Age 9 and Under) Boys and Girls – 9 holes x 3 rounds
Winner: Thejas Rathis Kanth 133 (46, 43, 44)
Runner-up: Kaiyen Johnpillai 140 (47, 47, 46)
3rd place: H. Shenal Nimsith 177 (65, 55, 57)
4th place: Aradhi Samaratne 194 (65, 66, 63)
5th place: W.G Induneth 194 (65, 66, 63)