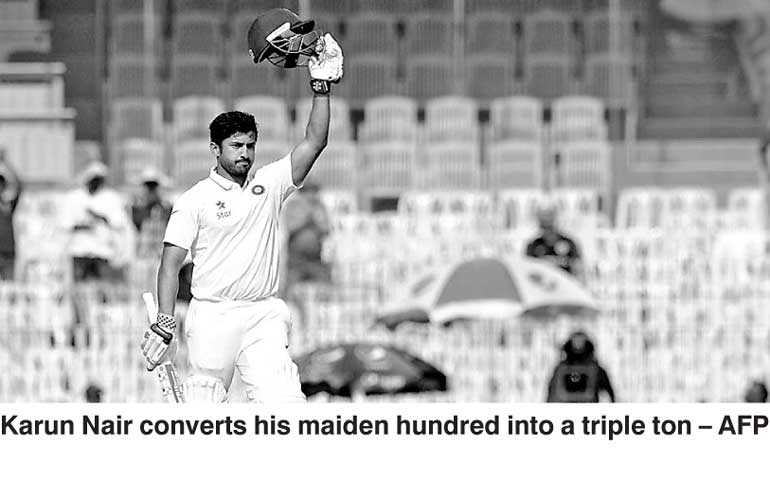 ESPNCricinfo: Former India Captain Sunil Gavaskar led the severe criticism of India's decision to not play middle-order batsman Karun Nair in fifth Test against England at The Oval.

Nair was part of the original 18-man squad, but India played all-rounder Hardik Pandya in the first four Tests. When India dropped Pandya – the first time since his debut – for the Oval Test, they gave a debut to Hanuma Vihari, the Andhra batsman who averages 59 in first-class cricket and was brought in as Kuldeep Yadav's replacement for the final two Tests.

Gavaskar was furious with the selection, failing to see a reason for not playing a batsman whose last innings against England was a triple-century. The only reason Gavaskar could come up with was that Nair "has not been your favourite player".

"There is no argument that is going to ever satisfy me," Gavaskar said on Sony Six moments after the toss. "What has Karun Nair done not to get in? I know he has not been your favourite player. You don't want to pick him. He scores a triple hundred. You leave him out [for all-rounder Jayant Yadav in Pune]. He fails in a couple of games [against Australia in the rest of the series]. You leave him out. You have brought him back on the team. It could be the selectors who have brought him back. The team management probably doesn't want him and that's why they haven't given him the opportunity to play in this game.

"How many Indians have got triple hundreds? Virender Sehwag twice and Karun Nair once. You don't give that man an opportunity. So what are you trying to tell him? 'Look we don't think you are a good player?'

"All the best to Hanuma Vihari. I really wish him well. Karun Nair has every right to ask the team management what he has done wrong. He deserves an answer. 'Why am I not picked?' If you are going to pick an extra batsman, which they should have done from the first Test itself, and if you haven't given him the opportunity, he deserves an answer."

Nair's exclusion was reminiscent of Ajinkya Rahane, who spent a lot of time on the bench in Australia in 2011-12 but couldn't find a place in a line-up that included Sachin Tendulkar, Rahul Dravid and V. V. S. Laxman. When Dravid and Laxman retired for the subsequent home season, Yuvraj Singh was picked for the England series. And when Yuvraj was dropped, Rahane would have hoped to play in the fourth Test in Nagpur, but India gave a debut to all-rounder Ravindra Jadeja in that match.

One of the arguments in Vihari's favour has been that he can bowl offspin too – he was the third bowler used on the first morning of the Oval Test – but he has only 19 wickets from 63 first-class matches, which doesn't suggest a Jadeja-like all-round ability.

Gavaskar was not the only person in the Indian cricket community disappointed with the selection.