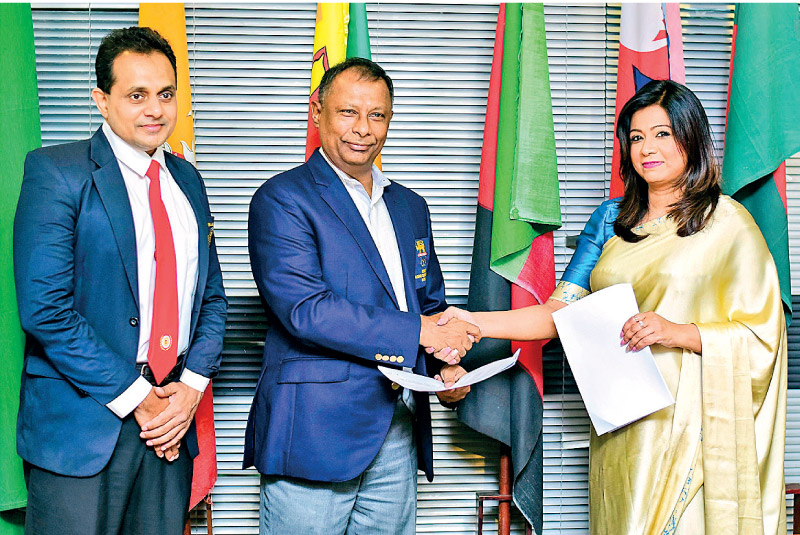 Sun Match Director Gowri Rajan with NOC President Suresh Subramaniam and Marketing Committee Chairman Dr. Rohantha Athukorala
---
The first SLS approved disinfectant brand in Sri Lanka, Sun Disinfectants, sponsored an Olympic hopeful for the 2024 Games, Thilini Pramodika Hendahewa, the top Sri Lankan badminton player.

"We are committed to supporting the country's sports agenda and this initiative is an important part of that mission and it also appeals to our sense of national pride," said the Sun Match (holding company) Director Gowri Rajan.

"Sports is way for people to use their talents, strive to triumph over adversity and work on being their very best, in order to achieve success. This motto speaks to us and our brand range, where our company has continued to give our best to our citizens over the years, even in the most challenging of times, that has led us to being recognised for the superior quality and safety of our products."

Thilini competed at the 2014 Summer Youth Olympics in Nanjing, China, and also at the 2014 and 2018 Commonwealth Games and is a women's singles champion In Sri Lanka.

"She is a university student and we from the National Olympic Committee (NOC) want Thilini to be a top professional in Sri Lanka and I am glad that an organisation like Sun Match has come forward," said Marketing Committee Chairman Dr. Rohantha Athukorala.

NOC President Suresh Subramaniam commended Sun Disinfectant brand from Sun Match supporting deserving athletes and invited more companies to come be part of the partnership program. "We from the NOC will monitor the athlete and carefully prepare Thilini for the Commonwealth Games in Birmingham in 2022/Asian Games in 2022 so that we nurture the top athletes for the next Olympics."

"Thilini, whilst being supported for training, will be on a program called 'Future CV' where a personality assessment will be done by Harrison in partnership with the Asia Pacific Institute of Information Technology (APITT) and then a top CEO from the private sector will be assigned for career guidance," said Dr. Athukorala.

As one of Sri Lanka's largest family-owned enterprises, Sun becomes the first disinfectant brand to take the initiative to sponsor an Olympic hopeful for 2024 Games and to support local talent to achieve success in the international arena.