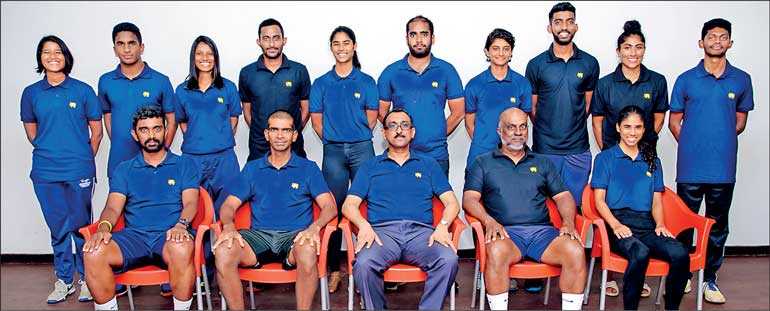 ---
A 12-member team has been selected to represent Sri Lanka at the 13th South Asian Games held in Kathmandu and Pokhara in Nepal from 1-10 December.

After a healthy and fair round of trials conducted at the Sri Lanka Tennis Association, under the supervision of President Iqbal Bin Issac, General Secretary Pradeep Goonasekara and Selection Committee Chairman Arjun Fernando, the best junior and senior tennis talents were locked in to represent the island nation at this year's South Asian Games in Nepal.

Sri Lanka Tennis has had a successful history at the Games, securing silverware multiple times. At the most recent 2016 Games held in India, where Sri Lanka re-entered the arena after a long lapse of 21 years, the team returned with three bronze medals.

The 2016 team comprised some of the best products Sri Lanka Tennis has seen in its rich history of over a century, with Harshana Godammane, Amritha Muttaiah, Dineshkanthan Thangarajah and Sharmal Dissanayake in the mix.

This year, a mixture of fresh talent and experience has been blended to create Sri Lanka's dream team on court. Sri Lanka's top dog Godamanne will not be joining the team this year on account of his retirement from the sport.



Men's team

Sharmal Dissanayake is a clear pick to the side given his involvement with the national team for several years now, being Godamanne's right-hand man on court. He will be joined by doubles specialists Yasitha De Silva and Sankha Athukorala, both returning members of the team. Five-time national champ and Davis Cup representative Thangarajah will also return to the side to add a strong singles component to the side.

Fast-rising Junior National champion Chathurya Nilaweera has booked himself his first entry in the SAG contingent along with Suren Balachandran to cap the men's team at six.



Women's team

Anjalika Kurerra, the youngest national champion from Ava Maria Convent Negombo, with her counterpart Anika Seneviratne, the holder of the women's doubles and mixed doubles national titles, were direct picks along with Anika's younger sister Alana, who is making her first appearance in the games in the doubles segment. SSC Champion Rukshika Wijesuriya, Fed Cup number one Savini Jayasuriya and national singles runner-up Janali Manamperi are the rest of the members in the team.

Renuk Wijemanne and Niranjan Cassiechitty will operate as the Non-Playing Captain and Coach for the Men's and Women's teams respectively while Vipul Perera will assume the role of Team Manager.