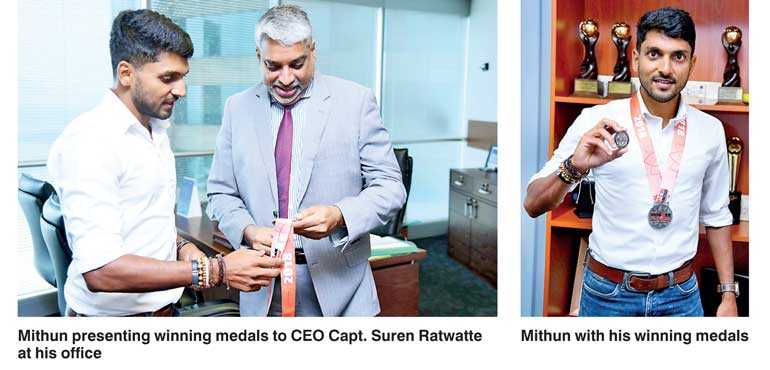 SriLankan Airlines applauds Ironman Mithun Liyanage, who qualified for the prestigious 2018 Ironman 70.3 World Championships in South Africa in September 2018 with an impressive performance at Ironman 70.3 Vietnam on 13 May.

SriLankan Airlines CEO Captain Suren Ratwatte said: "Mithun is demonstrating his true potential as a world class triathlete and has now been rewarded by being selected to participate in this global event. As the National Carrier, SriLankan Airlines endeavours to identify and support our homegrown talent, and we are proud to have played a role in supporting Mithun on his journey. We wish him the best of luck in South Africa."

SriLankan Airlines has long supported the country's sportsmen and women in international competitions, and also helped to organise many types of international sports events held in Sri Lanka. The National Carrier has been supporting Mithun since 2016.

Mithun Liyanage said: "I am delighted to have qualified for the World Championships and would like to thank all those who supported me in many ways, including my coaches and colleagues, family and of course all my sponsors, including SriLankan Airlines. I hope that this will encourage the growth of Triathlon among Sri Lankans, who definitely have the potential to go far in this sport."

Ironman 70.3 Triathlons provide an extraordinary test of endurance in three sports as they consist of a 1.9 km swim, 90 km bike ride, and 21.1 km run. Qualifying tournaments are held in various countries at which competitors may qualify for the Ironman 70.3 World Championships. The '70.3' refers to the total distance in miles (113.0 km) covered in the race.

Mithun is one of four Sri Lankans who have qualified for the World Championships be held in Nelson Mandela Bay near Port Elizabeth in South Africa on 1-2 September, where over 6,000 of the world's finest triathletes are expected to compete.

Competing in his fourth international Ironman 70.3 Triathlon, Mithun completed it in a time of 4 hours, 58 minutes. He has also competed in Ironman 70.3 events in Malaysia and Indonesia, as well as Duathlon (running and cycling) events in Malaysia.

Mithun, 31, began competing in Ironman Triathlons just two years ago, training twice a day. He was chosen as an All World Silver Athlete, which honours the top 5% of triathletes in his age group of 30-34 years.

A marketing professional, he is currently Sales and Marketing Manager at Spinner Sri Lanka and holds a BSc in Information Technology from the University of Portsmouth and an MSc in Marketing from Asia e-University. He is a Brand Ambassador for Trek Bikes, a member of the Triathlon Club Colombo, Wroom, Colombo City Running, and was involved in the organising of Ironman 70.3 Colombo earlier this year.

Follow 'Mithun_liyanage' on Instagram to be a part of his journey to the World Championships.