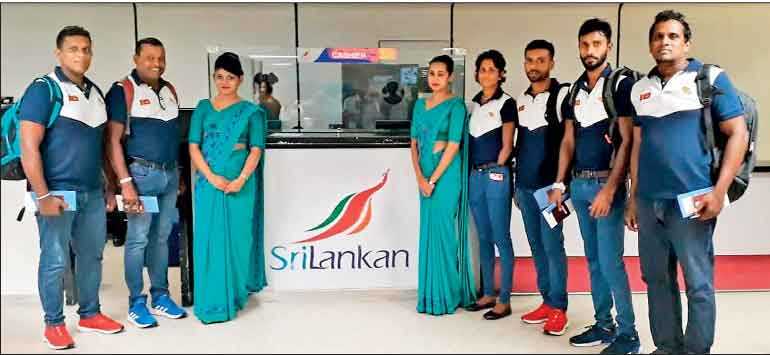 By Hishan Welmilla

National carrier SriLankan Airlines came to the rescue of a portion of a para-athletic contingent set to take part in the World Para Athletics Championships, which will be worked off from 7-15 November in Dubai in the United Arab Emirates, by providing them with concessionary air travel.

Four athletes and two officials flew SriLankan Airlines last evening. The group comprised Nuwan Indika, Samitha Dulan, Buddika Indrapala, Kumudu Priyanka, Harjan Rathnayake (Coach) and Pradeep Nishantha (Coach). They were able to take part in the competition through the generous sponsorship of the national carrier.

The 15-member contingent was due to travel to Dubai but faced financial difficulties in making their way to Dubai and the National Paralympics Committee requested the Ministry of Sports to intervene.

The Ministry agreed to fund only nine members of the contingent, leaving the balance six members in the lurch. But the timely efforts of SriLankan Airlines made the life of the NPC easier.

The best track and field para-athletes are gathering in Dubai for the 2019 World Para Athletics Championships.

It is the final global event before the 2020 Tokyo Paralympics, with more than 1,400 athletes set to do battle.

There will be 95 men's and 76 women's events at the Dubai Club for People of Determination, plus one mixed universal 4×100 m relay.