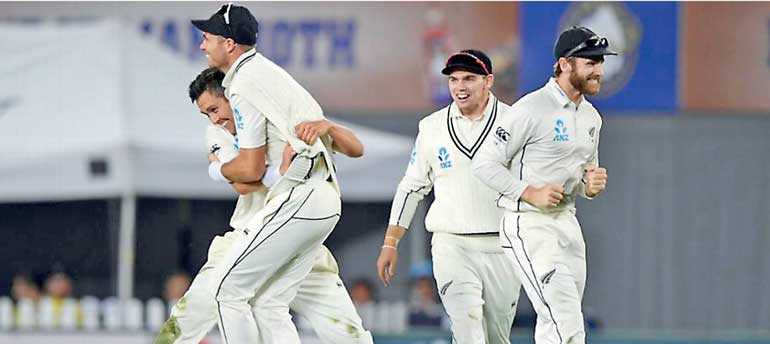 New Zealand men set to play five Tests, 11 ODIs and four T20s from December to March
ESPNCricinfo: New Zealand are set to play hosts to Asian teams Sri Lanka, India and Bangladesh during their 2018-19 home season from December to March. The India tour will be particularly significant given both the men's and women's teams will feature in three T20I double-headers in early February after they complete their respective ODI series.

While the men's teams of India and New Zealand will feature in a five-match ODI series – starting 23 January - that will serve as preparation for the 2019 World Cup, the women's teams will square off in three ICC Women's Championship fixtures that helps to identify seven direct qualifiers (excluding the hosts) for the 2021 Women's World Cup to be held in New Zealand. All six women's matches will be televised live for the first time in New Zealand history.

In a move to align with viewer-friendly timings in India, NZC pushed back the start of all games, barring the second T20I in Auckland on 8 February, by one hour as per their agreement with India's host broadcaster Star Sports. There are restrictions on the number of events that can be held at night at Eden Park because of its proximity to residential areas.

While the first and third T20Is will begin at 8.00 p.m. local time, the Auckland game will start an hour earlier. "NZC would've liked to have scheduled more India matches at Eden Park in Auckland but was unable to do so because of restrictions at the venue," NZC's chief operating officer Anthony Crummy said. All five ODIs between the men's teams will start at 3.00 p.m. local time.

New Zealand's international summer will start with two Tests against Sri Lanka, starting 15 December in Wellington, followed by the Boxing Day Test in Christchurch, before they play three ODIs and a lone T20 in January. Once India's tour of New Zealand ends with the last T20 on 10 February, the hosts will take on Bangladesh for three ODIs, followed by a three-Test series - the first ever between the two sides. This will also be Bangladesh's first three-Test series since hosting Zimbabwe in 2014. The three Tests will be played in Hamilton, Wellington and Christchurch.

"NZC had hoped to schedule the opening Bangladesh Test at Seddon Park as a Day-Night fixture but could not obtain agreement from the Bangladesh Cricket Board and was forced to revert to the traditional hours-of-play," an NZC release said.

Meanwhile, India will also field an A team that will feature in three four-day fixtures across Mount Maunganui, Hamilton and Whangarei, and three 50-over fixtures, all at the Bay Oval in Mount Maunganui during the same period.

This series is in line with NZC's increased investment in the 'A Programme' as announced in the new NZC-NZCPA (New Zealand Cricket Players' Association) master agreement earlier in July. The BCCI has in recent times increased the exposure for their A teams through tours to run alongside the senior team's tour, like in England this summer.
New Zealand Cricket turns down offer to tour Pakistan

ESPNCricinfo: New Zealand Cricket has turned down a request from the PCB to tour Pakistan later this year for a T20I series because of security concerns. New Zealand are set to travel to the UAE to play Pakistan for a full tour that is likely to comprise three Tests, three ODIs and as many T20Is in October-November, even though the fixtures are not announced yet. The PCB had hoped to convince New Zealand to play the T20I leg of the tour in Pakistan.

"At the end of the day it came down to following the advisory and the security reports we'd obtained." NZC chairman Greg Barclay told Newshub. "There's no doubt they (Pakistan Cricket Board) are disappointed. I think they saw a tour by a country like New Zealand as being a great precedent for them to start to build an international programme back in Pakistan.

"So they're disappointed but they're good guys, we get on really well with Pakistan, and I think they're fully accepting of the decision that we've reached."

NZC had received a request to tour Pakistan earlier this year and was going to consult with security providers, the government, and the players. Since the terror attack on the Sri Lanka team bus in 2009, Pakistan have played most of their home games in the UAE. Zimbabwe broke the deadlock in May 2015 when they toured for a short limited-overs series, which was marred by a blast near the Gaddafi Stadium.

A World XI side led by Faf du Plessis, comprising a number of current internationals toured the country for three T20Is in September 2017. In April this year, a depleted West Indies squad also toured Pakistan for three T20Is in as many days. In between, Lahore and Karachi have hosted a few PSL matches.
New Zealand last toured Pakistan in 2003, just a year after a suicide bombing outside their team hotel in Karachi had cut their tour short.

"I can't comment on the decision process that the West Indies went through, perhaps some of the timings may have been different as well," Barclay said of West Indies' decision to tour. "I just know that we went through a very thorough process and I'm comfortable with the decision that we got to.

"We're very sympathetic to the plight they find themselves in, we're a member of the ICC, we're very aware that the ICC are trying to facilitate more international cricket in Pakistan and we're very supportive of that."

Although they were given three months to analyse the situation, NZC had not sent any of their representatives to Pakistan to conduct any personal checks.
New Zealand home summer

Versus Sri Lanka:
1st Test: December 15-19, Wellington
2nd Test: December 26-30, Christchurch
1st ODI: January 3, Mount Maunganui
2nd ODI: January 5, Mount Maunganui
3rd ODI: January 8, Nelson
Only T20: January 11, Auckland
Versus India:
n1st ODI: January 23, Napier
n2nd ODI: January 26, Mount Maunganui
n3rd ODI: January 28, Mount Maunganui
n4th ODI: January 31, Hamilton
n5th ODI: February 3, Wellington
n1st T20: February 6, Wellington
n2nd T20: February 8, Auckland
n3rd T20: February 10, Hamilton
Versus Bangladesh:
1st ODI: February 13, Napier
2nd ODI: February 16, Christchurch
3rd ODI: February 20, Dunedin
1st Test: February 28-March 4, Hamilton
2nd Test: March 8-12, Wellington
3rd Test: March 16-20, Christchurch