Fed Cup-winning Pancho Alvarino down in SL for special coaching clinic Sri Lanka among top nations in Asia in terms of youth development
SLTA sets 2025 target to be among leading tennis nations at under-16 level
SLTA to grow coaching pool exponentially in the coming years
Plans to make it mandatory for tennis coaches in the country to have official SLTA certification
By Madushka Balasuriya

It may have gone under the radar, but tennis in Sri Lanka is undergoing a quiet but significant revolution. Spanish Fed Cup winning coach Pancho Alvarino, with over 30 years of coaching experience, was down in Sri Lanka this past week imparting his knowledge on a group of local coaches from 10-12 December - the latest in a string of initiatives that has seen Sri Lanka move to the forefront of grassroots coaching in Asia.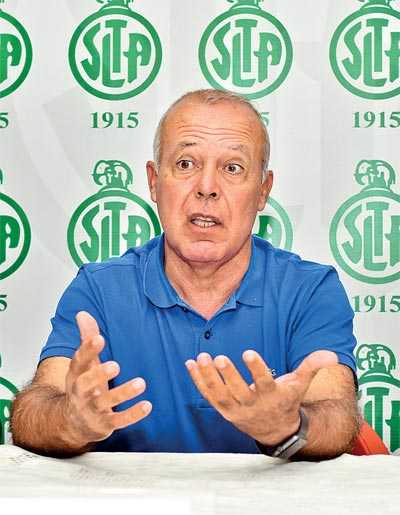 Pancho Alvarino from Spain
Alvarino's visit is a direct result of growing interest towards Sri Lanka from the International Tennis Federation (ITF), which has been paying special attention in recent times to countries doing promising work in terms of youth development. In fact, the world tennis governing body has been sending experts to different parts of Asia, with Alvarino himself having been in Hong Kong prior to visiting Sri Lanka.

What has so impressed the ITF about Sri Lanka has been their rather rapid recent growth in the number of young players taking up the sport, which has subsequently made the sport more accessible to a wider tranche of the populace.

Tennis, after all, is widely considered a "rich man's sport" with even top players in countries like England struggling to bear the costs of the travel and accommodation when playing tournaments. But through a combination of scholarship programs and an ever-increasing number of annual tournaments, Sri Lanka ( even with its rather small population size) has managed in the last five years to more than double the number of players taking up the sport competitively.

In the Under 10 all-island inter-school competition, where in 2013 there were 800 kids taking part, that figure is now 1800. All in all some 8000 youth players are actively playing the sport in the country. The goal now is to help these players not just compete, but make a step up and make a mark on the world stage, which is where the likes of Alvarino come in.

"When you have a very good junior, I think it's very important that they compete at an international level. Why? Because they then open the road for more young people. Those players then have an example, someone to look up to. The first one is difficult to come by, but when one comes, the others will soon follow," he explained at a media briefing at the Sri Lanka Tennis Association (SLTA) on Wednesday.

For this to happen, a more holistic approach is required. The SLTA for their part have been keeping kids interested in the sport through increased competitions - so much so that they recently received a regional award for its developmental efforts.

"Tournaments are good motivation for kids," noted Alvarino. "When you have matches every Saturday and Sunday, it's very good motivation for them to improve their level. The players play very good. Now to put focus on to under 16 and then 17 and 18 year-olds."

While the SLTA has been doing exceedingly well with regard to growing the number of youth tournaments (in 2016 there were eight under-10 tournaments, now there are 32) for Alvarino the crucial step up needs to come in terms of mentality. Sri Lankan kids, he says, like many others in Asia, can sometimes put their sporting ambitions on the back burner in favour of studies - which, while not an indictment on academic focus, does speak towards regional priorities.

"The big difference between Asia and Europe is the mentality. Here in Asia parents place a lot of importance in education. While education is obviously important in other parts of the world as well, for example in Europe, when players begin playing tennis the mentality is a little different. It's not as big an issue if sometimes they don't go to school. They are more ready to travel and play tournaments.

"They're also open to trying to be pros. Here players tend to play good tennis, reach a good level, but then perhaps go abroad to study and not take the next step."

Crucially, the SLTA has also been refining their selection of coaches. With nearly 125 registered tennis coaches island-wide, over the last decade the SLTA has moved to ensure that these coaches see coaching as more of a full-time than part-time job, something that has been aided by a recent influx of former pros taking up coaching.

But while the quantity is increasing, for Alvarino the goal is to get all the coaches up to a certain standard. As it stands, a handful of Sri Lankan tennis coaches are up there with the best in the region - with some even approached to conduct ITF seminars - but facilitating the sharing of that knowhow across the entire pool of coaches in the country is paramount.

"There are some very, very good coaches here, but you need more," explained Alvarino. "The main thing is the passion. Passion for working to improve. And motivation. Because if the coaches are motivated, the kids also come with good motivation.

"The other thing is to always work in the same way. In terms of philosophy there must be a holistic one, where the technical aspects are the same for all the kids at the same age groups. Tennis is constantly changing, training methods are changing, so it's important that coaches keep up to date. On the internet you can find anything about any topic." Alvarino believes that a more educated batch of tennis coaches will also set off a positive cyclic chain reaction with regard to shifting the mentality of players, where it will push young players to greater heights which in turn will give coaches the experience of working with a better calibre of player.

"Sri Lanka is going in the right path, but I think it will take about two-three years to see tangible results. The most important thing is cultivating a big pool of young players," he said.

"Also the coaches need to improve along with the players. At the moment there are not too many good, experienced coaches, because they also don't get the opportunity to work with good junior tennis players."

In the short to medium-term the SLTA has some set goals: for 2025 the governing body has set a target for SL to be one of the top nations at the under 16 level; 2022 has been set as a marker for there to be at least four coaches in each outstation area (presently, tennis has been popularised successfully in 11 regions in the country); to gain sports ministry approval to make it mandatory for all tennis coaches in the island to get SLTA certification; and in January 2019 the SLTA will be putting in place a proper player development structure for the first time ever, where promising players will be earmarked for grooming a year in advance of the 2020 season.

"All the kids I've seen here in my previous visits have a very good level, as good as those in Spain and other parts of the world," stated Alvarino.

With the SLTA having laid down some solid groundwork already, there are far worse outcomes than following Spain's trajectory in the years ahead.