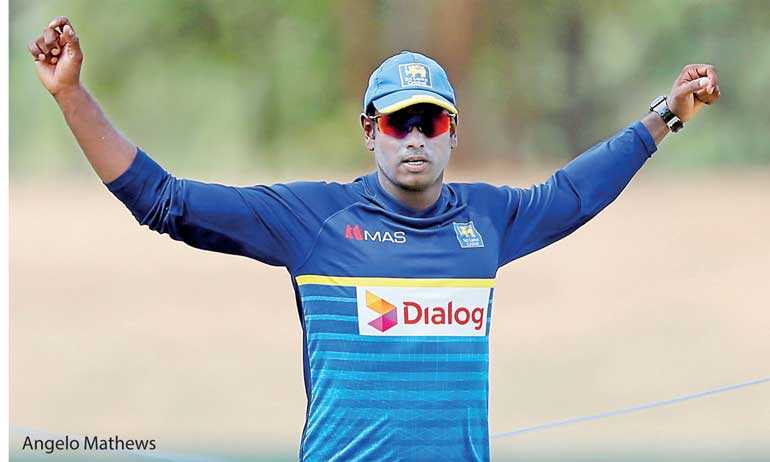 ESPNCricinfo: Angelo Mathews put it bluntly: "We were a bunch of school kids when it came to today's fielding." Niroshan Dickwella said basically the same thing, but with a little more subtlety, drawing attention to the many "mistakes" that led to Sri Lanka's 10th straight loss to South Africa, and their second loss in this series.

Sri Lanka had begun shakily with the bat, losing two wickets in the second over - bowled by Lungi Ngidi. They had failed to accelerate through the late overs, with wickets having fallen regularly, and ended up with only 244 on the board. Then in the field, they shelled two straightforward chances in the early overs, both off the bowling off Kasun Rajitha, and the reprieved Hashim Amla (4) and Quinton de Kock (24) put on a 91-run opening stand to reinforce South Africa's advantage. More shoddy fielding was to follow, as well as poor bowling at various times in the innings.

"We made mistakes throughout the game," Dickwella said. "If we want to win a match, we can't make so many mistakes. Maybe you can make two or three mistakes and fix those things within the game itself and win the match. But if you make mistakes through the match, it's hard to win."

Dickwella's own batting though, was less ridden with mistakes, especially compared with how his team-mates played, and as such he hit 69 off 78 balls to give Sri Lanka's top-order effort a little bit of credibility. Dickwella has been struglling for runs through this tour, recording scores of 18, 9, 5, 7* and 2 across the two Tests and first ODI. His success on Wednesday was due to a change of approach, or rather a reversion to the way he used to play, before coaches had asked him to change his technique. As is often the case with Dickwella, more than half his runs came behind square.

"I was working with the batting coach Thilan Samaraweera and coachChandikaHathurusingha, and I did some changes in my batting and I was worried about those things," he said. "Then we had one-to-one meetings, and I said I'm going to play like how I used to play, and not think about my technique. I'm going to work on my technique in the nets, but I'm going to play my normal game like I used to play when I started my career. That's what I did when I went to the middle today. It worked out for me."

Part of that "normal game" for Dickwella, is to attack more or less relentlessly in the early overs. In this match, he hit three audacious boundaries off the opposition's best bowler, Kagiso Rabada, to set his innings off at a canter. He started by socking Rabada over mid-off for four in the third over, before twice backing away to scythe him through the off side - one of those shots was a ramp shot that flew just over slip. Soon enough, Dickwella was on 21 off 18 balls, and seemed more comfortable at the crease than he had all through this tour, even as Sri Lanka lost wickets at the other end. Dickwella's 67-run partnership with Mathews would be the best stand of Sri Lanka's innings.

"If I go to a negative mindset after we lost two wickets, definitely I'm going to get out," Dickwella said. "I didn't think about the wickets. It was not my mistake to lose those wickets, so if I think about those things, and bat as a reaction to that, it's not going to help me. I spoke to my partners, and we wanted to build a partnership. Then Angelo Mathews came and it really helped me because he is the senior player and he always talks to me. He always advises me how to play and how to take the calculated risk. That helped me."
Sri Lanka cricket scraps plans to emulate IPL tournament
AFP: Sri Lanka's cricket authorities Thursday shelved long-delayed plans for a Twenty20 competition akin to the massively lucrative Indian Premier League, instead announcing a local tournament with no foreign players.

With an eye on the billions of dollars and millions of viewers drawn to the IPL, the island nation launched its own premier league in 2012 but the competition was a flop, lasting just one edition.

Sri Lanka Cricket had hoped to revive the tournament, modelled on the short-format competition that has lured international stars like England's Ben Stokes and the West Indies' Chris Gayle to India.

But a board official said the plans had been scrapped and replaced by the Sri Lanka Cricket T20 League, which would feature exclusively local players.

"There will be no foreign players, but our own international cricketers will play in the four teams that will take part," a board official told AFP.

The new league will nurture emerging local talent by giving young players the opportunity to play alongside the island's best, the official said.

The four teams will face each other twice in the tournament, which is slated to begin 21 August.