By Sa'adi Thawfeeq

Sri Lanka Cricket is making use of its panel of doctors to help them gain the necessary permission from the Ministry of Health to go ahead with the cricket tour here by Bangladesh next month.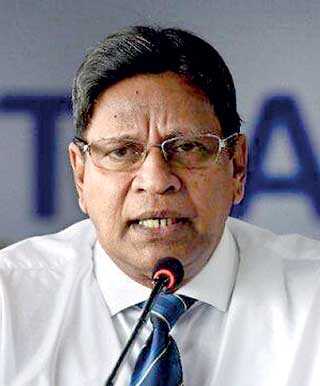 Sri Lanka Cricket Secretary

Mohan de Silva
"We appointed a panel of doctors to look after players' interest and players' health conditions and all that. Along with them we hope to discuss with Health Ministry officials about the relief they can grant us to arrange this tour," Sri Lanka Cricket Secretary Mohan de Silva told Daily FT.

"The panel of doctors will be able to advice because they are in contact with the cricketers and Sri Lanka Cricket management and, they can make representations on our behalf," he said.

"We've wanted a reduction in the quarantine period of 14 days but so far we have not heard of anything to that effect from the Ministry of Health. There has been no indication given by them to reduce it but we hope to have a discussion with them during the week," De Silva said.

The panel of doctors appointed by Sri Lanka Cricket's Management Committee are:
Dr Maiya Gunesekara, Consultant Surgeon and Gastroenterologist
Vidyajothi Prof Arjuna de Silva, Consultant Physician and Chairman of the Sri Lanka Anti-Doping Agency
Dr Harindu Wijesinghe, Consultant Rheumatologist and Specialist in Sports Medicine
Dr Chamara Wijesinghe, Consultant Psychiatrist, North Colombo Teaching School, Ragama
Dr Daminda Attanayaka, Sport and Exercise Physician at National Institute of Sport and Exercise Medicine
The Bangladesh national team is due to play a series of three Tests and the Bangladesh Emerging team will play two 4-day games and three ODIs.

The Management Committee has noted that the above squads will tour Sri Lanka if the medical guidelines communicated by the Ministry of Health are acceptable to the Bangladesh Cricket Board.