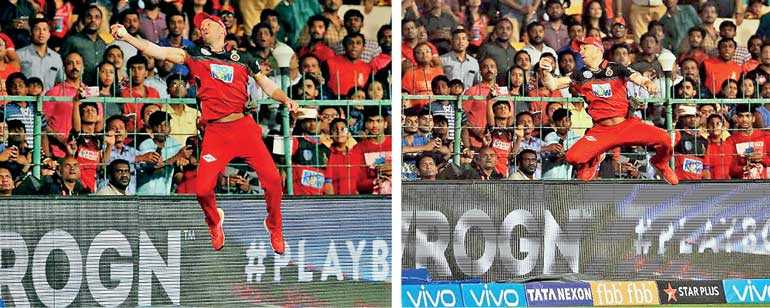 NEW DELHI (Reuters): AB de Villiers seems to make it a habit of being spectacular in whatever he does on a cricket field and the talismanic South African's gravity-defying catch in Thursday's Indian Premier League (IPL) match only added to his legend.

The Sunrisers Hyderabad's chase was into its eighth over when their English opener Alex Hales launched spinner Moeen Ali into the night sky at the M Chinnaswamy Stadium for what looked like his fourth six.

Patrolling the deep mid-wicket boundary, de Villiers, however, believed and proved otherwise.

Known for his superb athleticism, the South Africa leapt high and instinctively stretched out his right hand to pluck the ball swirling away from him.

And his job was not done yet.

When he landed, the Royal Challengers Bangalore fielder also had to ensure the momentum did not take him across the rope, which would have ruined a moment of breathtaking fielding brilliance. "That was Spiderman stuff, you don't do that as normal human beings," Bangalore captain Virat Kohli gushed at the presentation ceremony. "I thought it was going for a six and then he pulls it out... He can do freakish things. I'm used to it now.

"His shots still leave me in awe, I'm pretty used to his fielding. That was fun to watch," the India captain added.

Famed for his 360-degree batting and an uncanny ability to conjure up shots that amuse the fans and bemuse the opposition, de Villiers made a breezy 69 in Bangalore's 14-run win against the table-toppers to keep his team in the IPL playoff race.

Compatriot and former South Africa batsman Jonty Rhodes called the catch "insane", high praise coming from the fielding great, but de Villiers was his modest self when describing the moment.

"I made it look better than it was," the 34-year-old said after being adjudged man-of-the-match. "I got in a bad position. The ball had a little bit curve on it. The minute I took the jump, I realised it was a little bit outside of my body... Luckily it stuck." Former India test bowler RP Singh tweeted a photograph of de Villiers, with a flowing red cape, taking the 'superman' catch. Led by New Zealand captain Kane Williamson, Hyderabad have already made the playoffs as have Chennai Super Kings.With only five group matches to go, Kolkata Knight Riders, Mumbai Indians, Rajasthan Royals, Kings XI Punjab and Bangalore are vying for the remaining two playoff slots in the eight-team league.