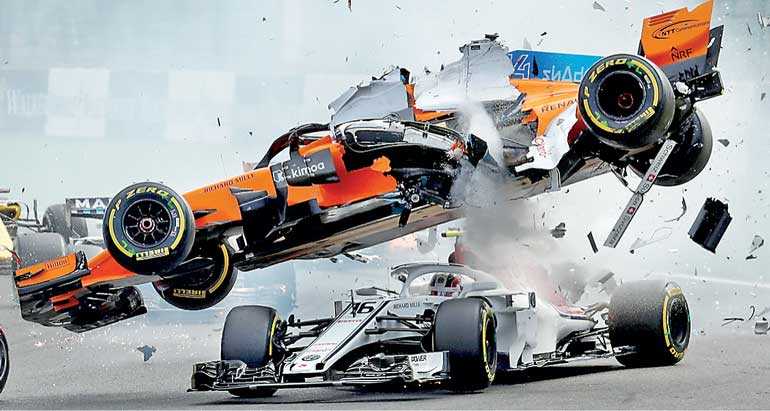 McLaren's Fernando Alonso and Sauber's Charles Leclerc crash at the first corner - Reuters
SPA-FRANCORCHAMPS, Belgium (Reuters): Fernando Alonso crashed spectacularly out of the Belgian Grand Prix at the start on Sunday with his McLaren flying over the top of Charles Leclerc's Sauber.

Nobody was hurt in the incident triggered by the Renault driven by German Nico Hulkenberg, who locked his brakes and rammed the rear of Alonso's car into the first corner, but it could have been much more serious.

Alonso's car skimmed over Monegasque rookie Leclerc's head, appearing to make contact with the halo system that was made mandatory at the start of the season to protect the drivers from such glancing blows.

"The Halo was a very good thing to have today. I think for him, it helped, looking at the replay," commented the Spaniard. "We don't need to ask whether it is a good thing (to have)."

"It is tough to understand how you can miss the braking so much," he added of Hulkenberg's actions.

The accident brought out the safety car for four laps.

The collision was reminiscent of one in 2012 that also involved Alonso, that time with Romain Grosjean's Lotus-Renault flying onto the double world champion's Ferrari at the same La Source corner.

Grosjean was fined and handed a one-race ban as a result.