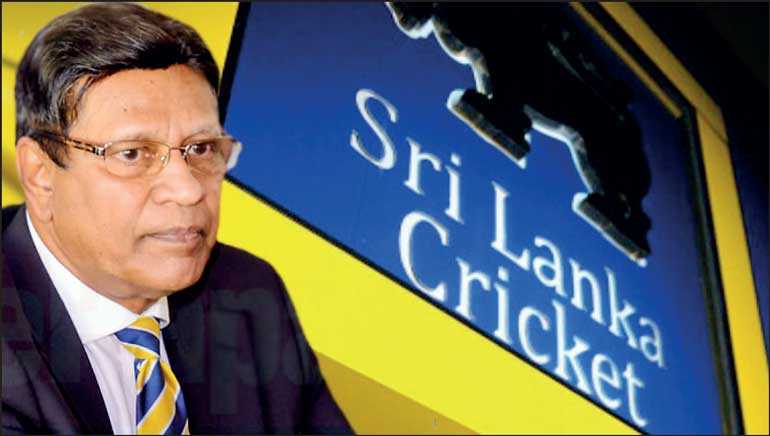 SLC Secretary Mohan de Silva
---
From 2017 we have built up our reserves which include the ICC annual turnover for the year of $8 million says Mohan de Silva
---
By Sa'adi Thawfeeq
---
Compared to countries like Australia and England, Sri Lanka Cricket (SLC), it seems, are on a sound financial footing post-COVID-19 than their counterparts, who have a good number of their contracted cricketers and staff undergoing salary cuts and job cuts.

"Fortunately, we have been doing well. We have some money in our reserves but going from here onwards, we have to be a bit cautious about spending especially on the projects that are actually essential. There are so many ongoing projects construction of swimming pools, grounds and so on," SLC Secretary Mohan de Silva told Daily FT.

"From 2017, we have built up our reserves, which include the ICC annual turnover for the year of $8 million, which is the ICC distribution to member countries that was paid to SLC in July. We are not only dependent on the ICC funding but there are also other lucrative sponsorship contracts that we have entered into," he said.

"Players are paid their monthly salaries on time and the salaries of the workers. We are still okay for maybe another six months or so, unless the ICC funding doesn't come. There are no ICC events also in place until next year. Then only we will have to decide how we are going to control our finances," de Silva added.

He said the next ICC funding to member countries is expected in January 2021, but with no ICC events taking place, there could be a reduction in the distribution of funds.

The ICC World T20 that was scheduled to take place in Australia this month was postponed to 2022 with India hosting the next World T20 in 2021.

How is SLC managing without any finances coming through television rights as no international matches are being played in Sri Lanka?

"The usual thing is when a series is confirmed a couple of weeks before the team lands in Sri Lanka, they (the company that has brought the broadcasting rights which in this case is Sony TV) send a certain percentage of the money. When the team lands another percentage and, after the completion of the series only the balance is paid," explained de Silva.

"Here we have no confirmation of the dates from March onwards Sri Lanka's had a number of inbound tours postponed starting with England, South Africa, India and Bangladesh. The broadcasting and team sponsorships we have to perform our obligations in order to receive moneys from them. According to the contract, tours have to take place, that is the obligation on our part. Only by performing our obligations will we receive the money from the sponsors," he said.

Without any inbound tours especially the ones by England and India to Sri Lanka, which brings in a big income SLC is expecting at the end of this year an operational loss.

"We have budgeted an operational loss because the income from the tours that were postponed will be minimised with no cricket at all," said de Silva. "In any case, apart from England and India, there weren't any money-making tours scheduled. Next year, we expect it to be a profitable year with all inbound tours being re-scheduled."

de Silva said that SLC was managing its finances prudently having identified its development projects on a prioritised basis with cricket gaining precedence over development and other expenses.

"We had a study where the Treasurer presented a paper giving three different scenarios on how we should control the finances – if the tours take place, if the tours don't take place at all this year, and how we should move forward," said de Silva.

"Accordingly we have to adhere to those recommendations and then take everything from there onwards until things settle down. We may have to confine development work at Khettarama, where the national cricketers are training. For example, the dormitory is completed, the swimming pool, we had to go through a lot of hassles to get the approval from the relevant authorities. That is one of the reasons why the previous interim committee which started the project but had a huge issue as no approval was obtained," de Silva continued.

"It is only now we have got all the required approvals for the swimming pool. People have been blaming us for delaying it but the actual fact is obtaining of the approval from the Colombo Municipality. We got approval only two weeks ago but in the meantime we have got all the drawings, estimates and identified the contracts and all that. We will continue with those projects and whatever we feel is essential and careful with our spending," he added.

de Silva said that SLC has been able to secure lucrative sponsorship that has brought in revenue because they invested in two good marketing personalities in Upul Nawaratne Bandara, formerly Head of Marketing at Dialog, who is now the SLC's Head of Marketing; and Melanie Dias, formerly from the hotel trade.

"They were recruited last year. They have been mainly responsible for securing of several sponsorships that have actually brought in a lot of revenue. We got a beverage sponsor, which has doubled the amount of the previous people, and water sponsor My Cola has come in a big way to support even in times like this when others shy away. Then we got Namal Balachandra as the official clothing partner and Red Bull came in with another sponsorship. We have been very fortunate that way," said de Silva.

"We are also fortunate to have Dialog as the team sponsors and Sony TV as the television broadcasting sponsors confirmed for the next two to three years. Sony TV came in at a time when other full-member countries were struggling to get sponsorships. That is why we also don't want to rush through the series that could put everyone in trouble. We have to strategically map out our planning and then move forward.

"We are co-operating with our commercial partners and being very reasonable to give them the best value as they have been good enough to come forward despite the current global situation and still sponsor," de Silva said.