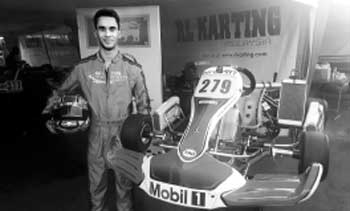 Sri Lanka's first international Go-Kart race 'X30 Asia Cup' will be held at the Sri Lanka Karting Circuit (SLKC) today and tomorrow. Organised by the David Peiris Racing and Leisure Pvt Ltd (DPRL), this event is the first of its kind to be held outside South East Asia.

Renowned for its rich heritage in motorsports, and its reputation for fostering new rising talent, Mobil Lubricants together with Single Seater Formula Motor Sports Association and Asian Motor Racing Club will power young Shanaka Clay from the United Kingdom tomorrow. The track blazing champ renowned for his efforts on the European circuits will race a Go Kart powered by Mobil Lubricants.

Shanaka Clay's first major breakthrough was when he won the prestigious Belgian Max Challenge in 2013. Just a year later during his debut at the Dorset circuit, he powered his way from the rear of the grid, passing 15 competitors to take the title.

Mobil is passionate about partnering with young talent such as Shanaka Clay and is optimistic that it will inspire aspiring karters and young racers to take to the track in the future.