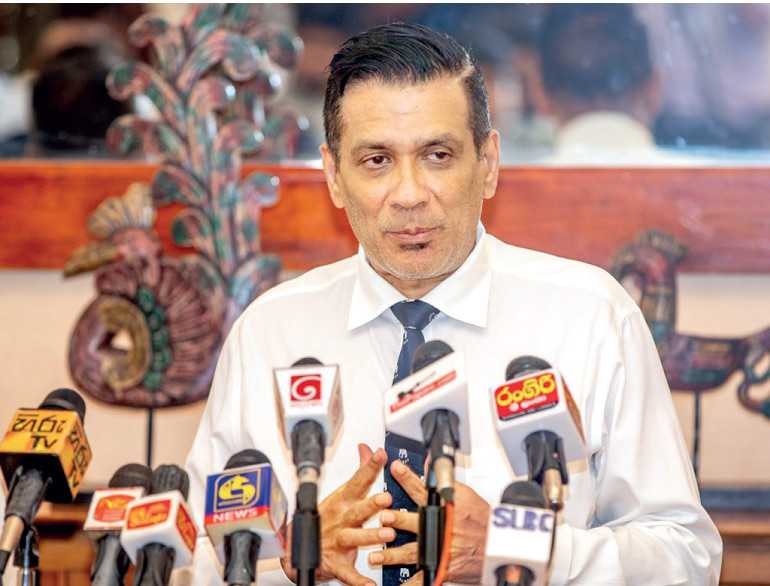 Sri Lanka Rugby President Rizly Ilyas at the media briefing
---
By Shamseer Jaleel
---
Sri Lanka Rugby (SLR) will kick off in late October 2020 with two inter-club sevens tournaments; one in Colombo and the other in Down South after receiving the Health Ministry approval. This was informed to the media by SLR at a press briefing held in Colombo recently.

The major changes that the newly elected President Rizly Ilyas and his committee have made are the inclusion of an Under-24 XV-a-side event, which is most welcome and has not taken place for a long time in Sri Lanka; plus the league will be shortened, which will give preference for the shorter version of the game.

SLR President Rizly, speaking to the media, said: "I wanted to have some changes in our tournaments starting from this year. We will be preparing our domestic tournament calendar. We are also in the process of documenting our plan for the Sports Minister and then getting the approval from the Health Ministry. Preference will be given to sevens over fifteens. This is the way forward for Sri Lanka."

Deputy President and the Tournament Committee Chairman Nazeem Mohamed said more importance will be given to the sevens, with the league being reduced by four weeks. "The session will be organised for all players and officials on 17 September, which will be the foundation to restart rugby after COVID-19. All the requirements will be discussed, which will be presented to the Health Ministry and Sports Ministry with the required documents."

SLR will decide if to accommodate spectators or not after consulting the Health and Sports Ministries. All matches will be telecasted live. Further the league will have only one round, and the second round will see the top tier and bottom tier locking horns, which will reduce the time by one month. At the end of the season, after the completion of the Clifford Cup, two more sevens events will take place in Kandy and Radella. In the initial two sevens tournaments, eight club teams and six women's teams will take part.

The following appointments were made by SLR.
Chairman of the Tournaments: Nazeem Mohamed
Chairman of Development Committee: Fazal Mohamed
Chairman of Women's Rugby: Rear Admiral H.A.U.D. Hettiarachchi
World Rugby Educator and Consultant: Dilroy Fernando
Executive Director: Kevin Herft
Director – Sevens: Ranjith Weerasinghe