Winner of Dialog 4G-The Sunday Times Schoolboy Cricketer 2018 Kamindu Mendis has stepped into the big league, having represented Sri Lanka in limited over cricket during the last 12 months.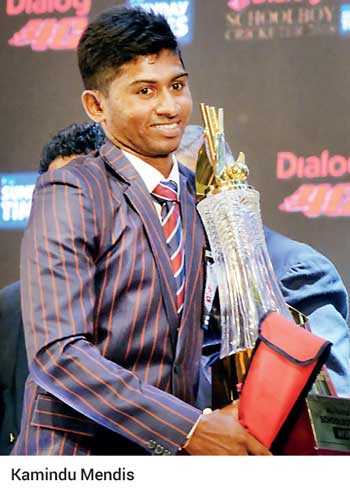 Possessed of a unique ability to bowl with both hands with the same accuracy, Mendis was Sri Lanka's U-19 skipper when he won the prestigious award presented by Dialog 4G and The Sunday Times, recognising his excellent performance during the year and the potential he had to graduate into the big league.

Just a few weeks after he clinched the coveted title last year, Mendis made his international debut in T20 cricket against England. He was then handed his ODI debut against South Africa early this year. He has since featured in four T20Is and two ODI matches and has been a regular in Sri Lanka's Emerging and 'A' teams.

"It was a huge honour and big stepping stone for my cricketing future," said Mendis recalling his moment of glory at the 2018 Dialog-The Sunday Times Schoolboy Cricketer award ceremony.

"Soon after being crowned, I was selected to play in the Super Provincial Tournament. I did well in that tournament and was soon called up for national duty."

The Dialog 4G-The Sunday Times award ceremony opens a window for school cricketers to become national stars. Every school sportsman should aim to play the game to the best of his ability and maintain the true spirit of the game. On and off the field, relations are vital for a school cricketer.

Mendis's dedication to and sacrifice for the game paid rich dividends when he became Schoolboy Cricketer of 2018, and his advice to the present-day school cricketer is to focus on the game and give it their best, laying the foundation to become a future national player.