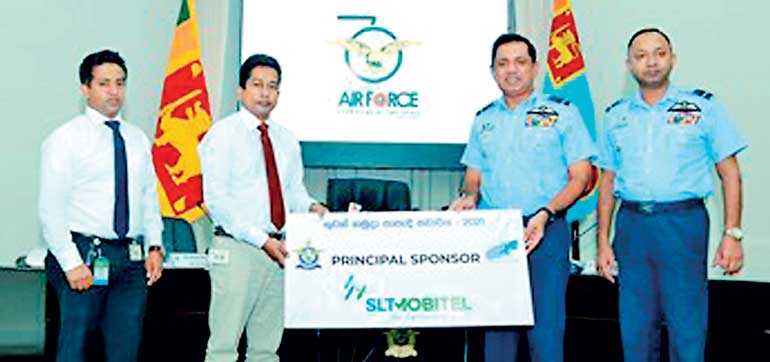 SLT-Mobitel Head of Special Projects Nalin Gamage handing over the token sponsorship to Commander Sudarshana Pathirana of the Sri Lanka Air Force, flanked by SLT-Mobitel Account Manager Saminda Patrick (left) and Sri Lanka Air Force Sports Club Chairman Air Vice Marshal Prasanna Payo (right)
---
Committed to supporting sports and inspiring young athletes, SLT-MOBITEL has come forward to sponsor the 'Guwan Hamuda Papedi Sawariya', an annual cycling event conducted by the Sri Lanka Air Force, as the Principal Sponsor.
Sri Lanka Air Force will be conducting the event for the 22nd time as part of their 70th anniversary celebrations. The event is set to witness elite riders from all clubs affiliated to the Sri Lanka Cycling Federation, competing for victory. Due to the prevailing pandemic situation, this year's event is limited to a single stage of competition. Over 100 male and thirty female riders, including many with Sri Lankan national rankings are expected to compete in the competition.

The men's race will start on 7 March from the Air Force Headquarters Colombo. It will cover approximately 160 km while the women's race will start on the same day from the Sri Lanka Air Force Trade Training School in Ekala and are scheduled to cover a distance of 76 km. The individual winners and runners-up of the men's race are to receive Rs. 250,000, 150,000 and 75,000 respectively, and the overall Sprint Champion will be awarded Rs. 20,000. The winner of the women's race will walk away with Rs. 100,000. The Team Championship prizes will be Rs. 100,000 and the runner-up prize is Rs. 75,000 with the Overall Young Champion Rider to get Rs. 25,000.

SLT-Mobitel is committed to building sports in Sri Lanka by empowering athletes to unlock their fullest potential and pave the way for equal opportunities irrespective of geographical barriers.