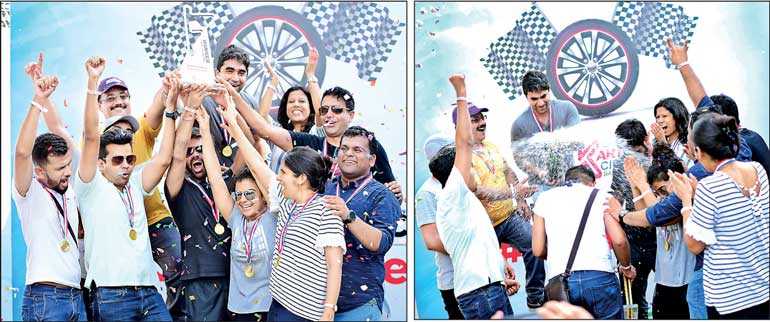 Winning team with the trophy and celebrating their victory
Cheer girls

---
Sri Lanka Karting Circuit (SLKC), owned and managed by David Pieris Racing & Leisure Ltd., hosted one of India's largest consumer product giants, Godrej India, to a two-hour endurance karting race recently.

Nearly 300 personnel from India's Godrej Consumer Products participated in the event, at SLKC's internationally homologated karting track. This was the first time that staff of a large Indian conglomerate took part in a karting challenge at SLKC with the event promoter being 'the Wanderers,' a leading MICE tour operator from Mumbai. SLKC welcomed the Godrej personnel serving them the refreshingly unique local King Coconut Water as a welcome drink. They were hosted for a grand lunch buffet laid out at the SLKC Grand Stand to enhance their experience in the open air pavilion which can house 750 people in its three-storeyed building.

Twenty teams competed in the two-hour endurance karting race. The challenge consisted of tyre change and driver change pit stops to make it more interesting and challenging giving the teams the opportunity to strategise and plan their way through to victory.

SLKC provides opportunity for karting enthusiasts to experience a world class motorsports facility in Sri Lanka. A fleet of rental karts are available for those who want to try out the sport or simply have a fun-filled thrilling experience.

Bambino karts and a separate track for children between the ages of four to seven is available for driving under skilled supervision, while kids aged eight to 12 years can enjoy the main track in Cadet Karts. This is another 'first' by SLKC, introduced to Sri Lanka last October. Youngsters aged 13 and above can enjoy karting and racing on the main track with adults.

SLKC provides safety gear such as helmets and gloves, ensuring safety of the drivers. Other leisure activities such as air rifle shooting, a swimming pool (including a kiddies' pool) and a multi cuisine fusion restaurant complement the karting experience at SLKC.