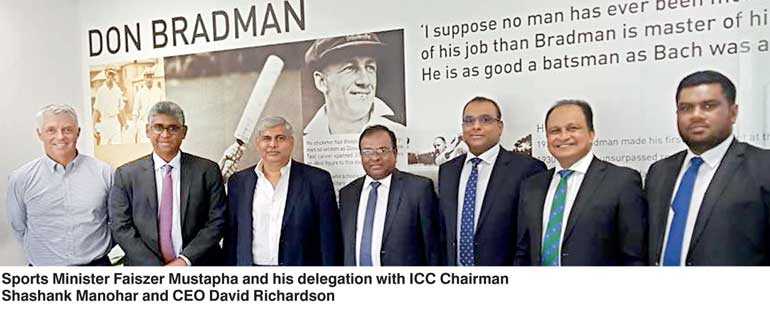 4-member management committee to be appointed to run SLC affairs alongside the Sports Ministry-appointed Competent Authority
Sports Minister Faiszer Mustapha and team give reassurances to ICC during meeting in Dubai
By Madushka Balasuriya

Sri Lanka Cricket will hold its board elections on 9 February next year at the latest, SLC has confirmed, after a delegation including Sports Minister Faiszer Mustapha personally petitioned the International Cricket Council for more time.

Others in the delegation which met ICC Chairman Shashank Manohar and CEO David Richardson were SLC Competent Authority Kamal Pathmasiri, Senior Deputy Solicitor General of the Attorney General's Department Sumathi Dharmawardena, and SLC CEO Ashley De Silva.

A four-member management committee is also to be appointed to run SLC affairs alongside the Sports Ministry-appointed Competent Authority, which has been running day-to-day operations since 31 May.

Sri Lanka Cricket elections have been delayed indefinitely since 31 May after a Court of Appeal, adjudicating on a petition filed against then SLC President Thilanga Sumathipala by SLC presidential candidate Nishantha Ranatunga, found that election protocol had been flouted.

The petition itself had sought to disqualify Sumathipala's candidacy on grounds of his familial relations to Sri Lanka's gaming industry. However, the Court, while refusing that request, instead found in their deliberations constitutional discrepancies in election procedure, and subsequently stayed elections. Since then, the court of appeal has lifted the ban. However, the ongoing court case against Sumathipala has meant elections have failed to materialise. This has drawn the ire of the ICC, who have been critical in the past about undue government interference in SLC affairs.

Mustapha's meeting with the ICC was to ease any concerns on the part of the world governing body, as well as to avoid any possible sanctions.

As such, Mustapha provided assurances to the ICC that a fresh election committee consisting of two retired judicial officials of High Court and above and a retired senior member of the Election Commission of Sri Lanka, or any retired public official with experience in conducting elections, will be appointed by the SLC general membership at least a month prior to elections. Thereafter, the Committee will vet and finalise the voters list. There will also be a one-week period allocated for any party to contest the appointment of the election committee to an appellate body consisting of three retired Supreme Court judges.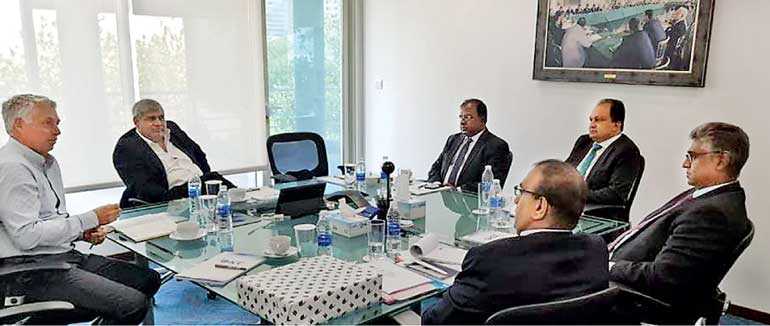 ---
Sri Lanka arrests two Indians on suspicion of match-fixing
AFP: Sri Lankan cricket's anti-corruption unit detained two Indian spectators on suspicion of match-fixing during a domestic Twenty20 league game, officials said.

The men were apprehended after officials spotted them behaving suspiciously and making repeated calls on their mobile phones during the match between Galle and Dambulla at Pallekele, in the island's central hills.

"We saw suspicious behaviour of the two Indians and ACU (anti-corruption unit) officials handed them over to the police for further investigations," a Sri Lanka Cricket (SLC) official told AFP.

The arrest comes a day after SLC issued a new match-fixing alert after a group of spectators were asked to leave another venue after officials suspected them of involvement in attempted match-fixing.

The ongoing T20 tournament features solely Sri Lankan cricketers after plans to emulate the massively lucrative Indian Premier League and attract foreign stars to Sri Lanka fell through.

Authorities say the scaled-down competition is still attracting match-fixers, and have increased the deployment of officials at games and team hotels, while players have been warned to inform the authorities of any attempt to approach them to fix matches.

Sri Lanka has also announced plans for tougher laws against sports corruption and a special police unit to deal with match-fixing following an Al-Jazeera documentary exposing corruption in global cricket in which three Sri Lanka officials were filmed agreeing to sway matches.