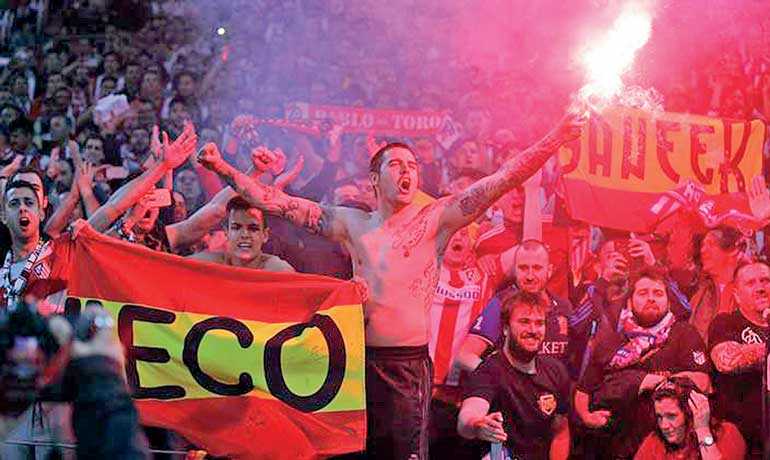 LYON, France (Reuters): Atletico Madrid striker Antoine Griezmann struck twice as the Spanish side outclassed hapless Olympique de Marseille 3-0 on Wednesday to win the Europa League for the third time.

The scoreline mirrored the Spanish side's last Europa League final win over Athletic Bilbao in 2012 and cemented their status as one of the continent's most consistent teams since Argentine coach Diego Simeone transformed their fortunes.

The only side to overcome them in knockout European football since 2013 are arch-rivals Real Madrid, who beat them in the 2014 and 2016 Champions League finals and knocked them out of the same competition in 2015 and 2017.

"They are an attacking team they work very well but we focused on our game, which was to defend well, be a tough team and take advantage of their mistakes," Griezmann told reporters. "I left home when I was 14 years old because I wanted to win trophies, this is my second and I hope I can win more."

Marseille had been emphatically beaten and could only salute their fervent supporters, who outnumbered the Spanish fans in the 59,000-capacity Groupama Stadium and let off flares and firecrackers at the start and end of the match.

"The score does not reflect the game, the more experienced team won, they know how to play these matches, they play in the Champions League regularly so we should not be ashamed of losing this match," Marseille coach Rudi Garcia said.

"Losing Dimitri was obviously a big issue for us. We lost a great player at set-pieces, if there's one part of the game where we could have been dangerous, it would have been set- pieces."

As well as missing out on a first European trophy since winning the Champions League in 1993, Garcia's side squandered an automatic route back into Europe's elite competition.

They now must overhaul third-placed Olympique Lyonnais, who they trail by one point in the Ligue 1 standings heading into the final weekend of the season.
Atletico charged by UEFA over 'racist behaviour', fireworks
Reuters: Europa League winners Atletico Madrid have been charged with "racist behaviour" by UEFA for a banner displayed by fans during their 3-0 win over Olympique de Marseille in the final on Wednesday.

European soccer's governing body said in a statement on Thursday that it had opened proceedings against the Spanish side under Article 14 of its disciplinary regulations.

Marseille and Atletico also face punishment for setting off fireworks during the match.

The French team's famously passionate fans unleashed a whirlwind of flares and firecrackers moments before kickoff and the game began under a thick cloud of smoke.

Atletico set off a small number of flares in their end after each of Antoine Griezmann's two goals while the French supporters engulfed the air with another display of flares, some of which were thrown onto the pitch, near the end of the game. Marseille fans also caused "acts of damage" at the Groupama Stadium, the home of rivals Olympique Lyonnais and the French club were charged by UEFA after their players returned late to start the second half.

UEFA's Control, Ethics and Disciplinary Body will deal with the case on May 31.