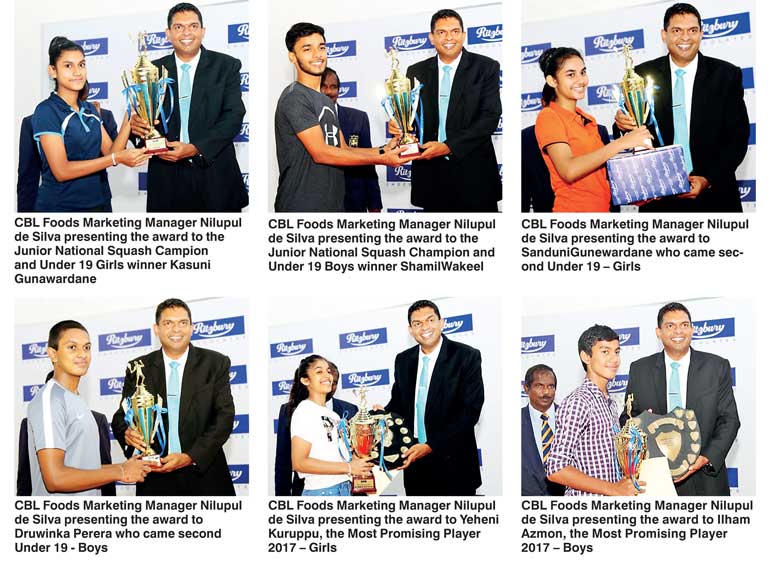 Ritzbury, together with Sri Lanka Squash Federation, kicked off the 28thJunior National Squash Championship 2017with the finals held on Sunday, 7 January at the Ratmalana Air Force Squash Courts.

Ritzbury, Sri Lanka's number one chocolate brand manufactured by Ceylon Biscuits Ltd. (CBL), once again gave a boost to the country's junior squash players. Uplifting Sri Lankan sports ispart of the CSR ethos of theorganisation. Ritzbury has been sponsoring the squash championship consecutively for ten years.

Considered one of the premier junior tournaments of the country, this year's championship had the participation of over 250 young players representing various parts of the country. This year's tournament featuredall regular events, boys and girls under 9, 11, 13, 15, 17, and 19 including few novices events tailor made to attract new entrants to the game of squash.

Sharing the thoughts on the sponsorship, Cdr.PriyadarshanaJayawardana, Secretary – Sri Lanka Squash Federation stated: "We are proud to have the assistance of a conglomerate like CBL and wish to extend our sincere thanks to Ritzbury for being with us for the past decade. Ritzburyis a brand which continually supports young Sri Lankan sports enthusiasts and Ritzbury's presence in this tournament has been able to raise the profile of the squash game in Sri Lanka." "We are proud to sponsor the Junior National Squash Championship for the 10th consecutive year. It is very encouraging to see the standard of the game progressing rapidly withsome of our players performing outstandinglywell in regional championships," said Nilupul de Silva, Marketing Manager of CBL Foods. The Final matcheswere followed by an award ceremony at Ratmalana Air Force squash courts.