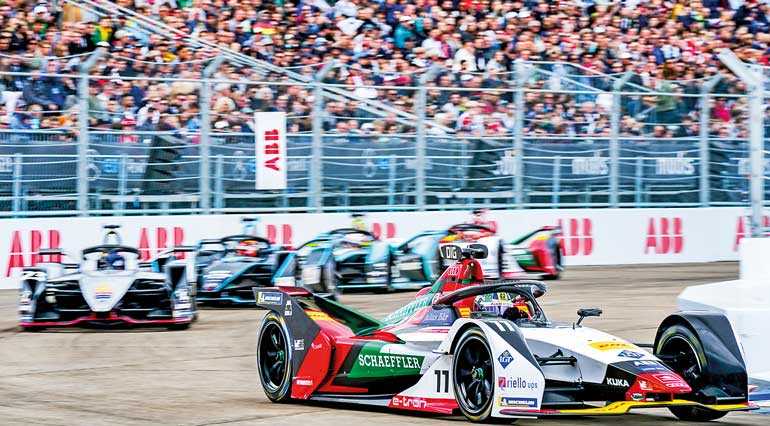 Crowds watching on as Lucas di Grassi (Audi Sport ABT Schaeffler) leads the field at the 2019 BMW i Berlin E-Prix presented by CBMM Niobium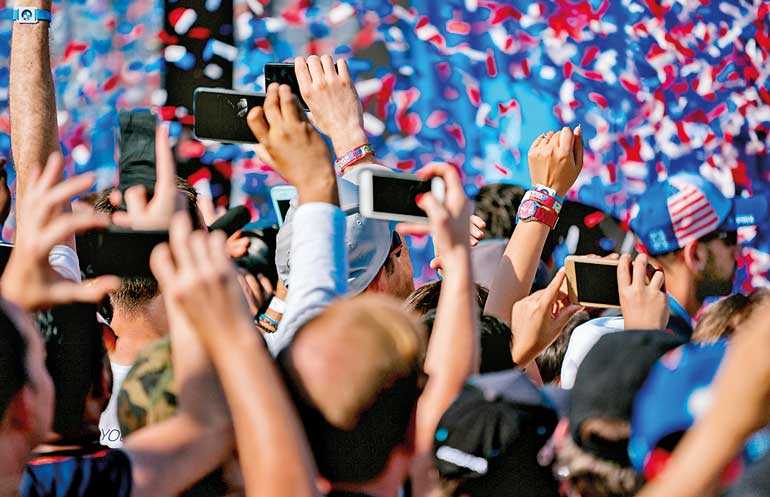 Fans holding their phones high in the air to record Jean-Eric Vergne (DS TECHEETAH) make history in New York City as the first two-time Formula E champion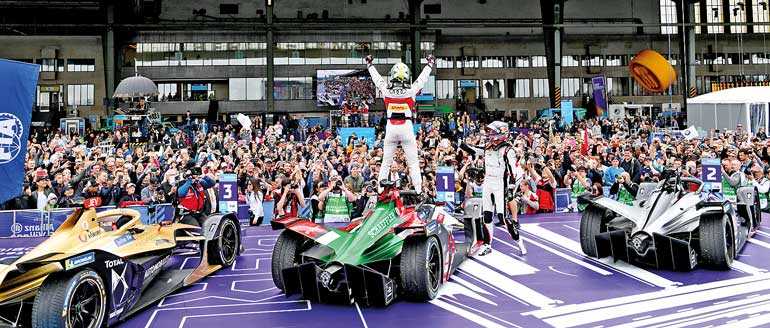 Cars pulling into parc ferme on the podium at Tempelhof Airport, with Sebastien Buemi (Nissan e.dams) congratulating first-place finisher Lucas di Grassi
ABB FIA Formula E Championship racing ahead with revenues exceeding € 200 m and increasing more than 50% on last season
Cumulative TV audience of over 411 m - rising 24% year-on-year - and surpassing 400,000 spectators through the turnstiles
Exciting races and EV tech continuing to capture a young demographic with 72% of Formula E fans on social media aged under 35
Formula E inspiring future generations to embrace clean energy and in turn bringing fans one step closer to driving an electric car
The ABB FIA Formula E Championship has further accelerated its audience growth across the board in season five and still remains the sport of choice for young fans, with 72% of followers on social channels under the age of 35.

Consumer growth figures at the end of the season also reflect a similar upward trajectory of the company's financials. The preliminary numbers show a record revenue of over € 200 million (EUR), up more than 50% from last season and a positive EBITDA for the first time in the short history of Formula E.

Not only has Formula E seen a significant increase in revenue, the series has also experienced yet another consecutive year of growth across its digital platforms, as well as increased event attendance and more fans tuning in to watch on television.

Formula E entered a new era in season five, introducing the game-changing Gen2 car, rolling out an innovative race format and adding to the list of iconic cities featuring on the calendar, which in turn created a truly unique and unmissable sporting spectacle. Coming off the back of the most competitive and unpredictable season so far, which saw eight different winners in the first eight races, the excitement on track has translated into growth across all areas and has again gained most traction with a younger audience.

Following a trend set in previous seasons and showing no signs of slowing, Formula E is continuing to capture a new and young audience, with a rising amount of followers, video views and sustained levels of engagement spread over the most desirable age brackets.

The combined total of followers has climbed 212% compared to last season, more than doubling the number of new fans following the ABB FIA Formula E Championship on social media. Despite drawing a larger following, engagement rates have not relented and instead have continued to rise with a 449% increase in interaction on Formula E owned content.

Formula E has focused its efforts on servicing fans with the latest news, storylines and relevant content to help create conversation, stir debate and generate comments from fans. The series is also committed to producing original content in key markets, with multi-language community management attributing to additional levels of engagement. The number of video views has grown for a second season in succession, coming in at 61% more than last year and passing the 850 million mark. With 72% of followers aged under 35 and 42% of videos being viewed by fans under the age of 25, Formula E is among the highest-performing sports platforms on the planet in terms of percentage breakdown of young fans.

Targeting and tailoring content to a young audience ties in with Formula E's broader brand purpose and vision of moving towards a cleaner future, faster - reaching more fans and bringing them one step closer to buying an electric car.

On top of driving digital growth, Formula E has had more event attendees than ever before, surpassing more than 400,000 spectators and ticket holders coming through the turnstiles in season five. Along with increased footfall in cities around the world, the number of fans watching on television has risen 24% year-on-year, with a cumulative TV audience of 411m across 13 races.

After the most successful season to date, the ABB FIA Formula E Championship is already gearing up for the new campaign with the most competitive line-up in motorsport. Both Mercedes-Benz and Porsche join the grid and will be battling for bragging rights when the five lights go out for the SAUDIA Diriyah E-Prix double-header on 22 and 23 November.