By Shamseer Jaleel

Sri Lanka Schools Rugby Football Association (SSRFA) is set to have its final meeting with Sri Lanka Rugby, Ministry of Sports, Ministry of Health and the Sponsor shortly in order to re-start the schools Under 19 league event abruptly ended due to COVID-19.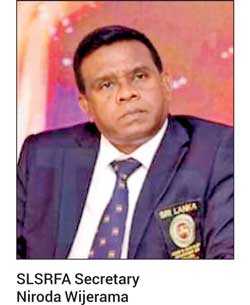 All tournament XV-a-side games in the league from Under 12 to Under 16 were cancelled earlier.

SLSRFA Secretary Niroda Wijerama, speaking to Daily FT, said: "We are very positive that both Ministries (Health and Sports) will grant approval for the re-commencement of the School league which was only 2 weeks old. We are thinking of starting in January 2021 and to end the season one month later in February. We do not want to do any injustice to any last-year players in their school career. Further, we cannot make it an Under 20 event next year, which will be unfair for the last year players who will end their rugby career at school in 2021 .SLSRFA has got more than 4 months to plan for the tournament. Further worst case scenario, we might hold an Under-19 X-a-side event."

Speaking further, Wijerama said: "We are really concerned on last year's players (Under-19) who will have their very last opportunity in representing their respective schools. This would have been their goal. We will give some tournament experience and certificates for those." He will meet the SLR officials and Sports Ministry early this week. After several meetings held with the governing body Sri Lanka Rugby (SLR), matters looks positive for a delayed start soon after the Ordinary Level examinations, which will be completed in end-December 2020.

With the Asia Rugby Under-19 championship Top 4, which will take place with Sri Lanka hosting the event, it will be vital that the school event is completed. This will give time for SLR to conduct the ARC Top 4 in March 2021. Sri Lanka, Hong Kong, South Korea and Taipei are scheduled to meet in the league format which will be held either in Colombo or Kandy.