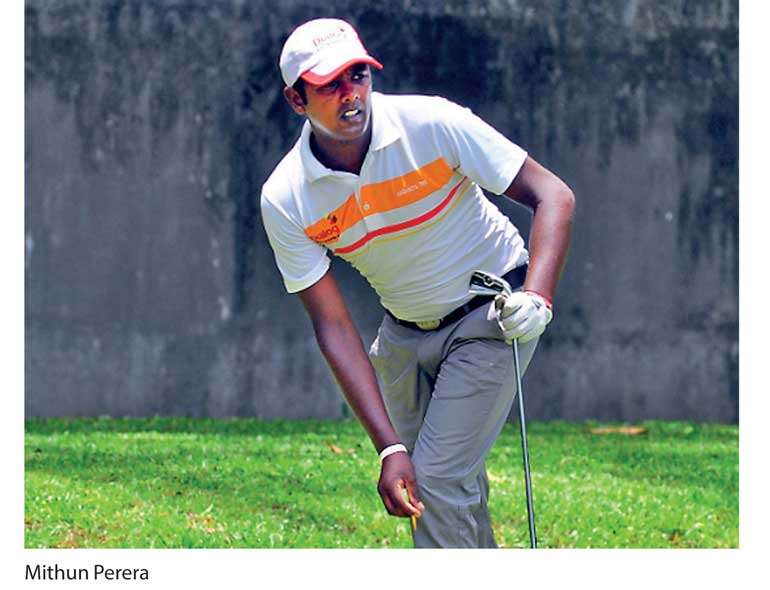 K. Prabagaran fired an eagle on the 18th hole to finish the third round 2 under for an eight under par total going into the final round.

Mithun Perera hung in there with a dogged 2 under par to take second place on an even par for the Open Championship, eight shots behind the leader.

Anura Rohana is a further stroke behind in third place. However, the sensation for the day was B.G. Lalith Kumara, who had a scintillating run of six birdies on the 2nd, 4th, 5th, 7th, 10th and 11th hole and an eagle on the 8th hole to be 8 under par playing the 12th hole, at which stage Lalith Kumara was in second place, four strokes behind leader Prabagaran.

Nonetheless, Lalith Kumara blundered in Switzerland and dropped seven strokes, two double bogeys and three bogeys on the 12th, 13th, 14th, 15th and 17th holes respectively to be just 1 under playing the 18th hole and birdied the last hole to finish on 2 under par, ending in overall fourth place, 11 strokes behind the leader. Nuwara Eliya's home hero was set to win comfortably having won the Sri Lanka Open twice before at the RCGC in 2014 and 2015.

Softlogic Holdings Group, the Principal Sponsor of the Sri Lanka Open 2017, is also the Tour Sponsor of Mithun Perera and Anura Rohana on the Professional Golf Tour of India (PGTI) and they lie in second and third position going into the last round, where any surprise is possible even though a lead of eight strokes can be too much on Prabagaran's home course.

The CAT SOLAR Pin Fernando Grand Prix saw overall leader B.A. Sanjeewa taking the lead by four strokes from Sisira Kumara, with M.U. Chanaka Perera in third place.

The Sri Lanka Open 2017 is bound for an interesting finish and the prize-giving ceremony will follow the morning play at around 1.30 p.m. with the participation of principal sponsor Softlogic Holdings, co-sponsor CAT SOLAR UTE and other affiliate sponsors.
Sri Lanka Open 2017 leader board after third round
205 – K. Prabagaran (65, 71, 69)

213 – Mithun Perera (73, 71, 69)

214 – R.A. Anura Rohana (69, 74, 71)

216 – B.G. Lalith Kumara (73, 74, 69)

217 – B.A. Sanjeewa (73, 71, 73)

221 – G.P. Sisira Kumara (71, 73, 77)

222 – N. Thangaraja (76, 71, 75)

227 – M.U. Chanaka Perera (74, 75, 78)

229 – R. Pathmanathan (75, 75, 79)

231 – J.M.D. Indika (79, 77, 75), Vijitha Bandara (77, 81, 73)
CAT Solar PFGP after three rounds
217 – B.A. Sanjeewa

221 – G.P. Sisira Kumara

227 – M.U. Chanaka Perera

231 – J.M.D. Indika

232 – T. Akash

234 – M.H. Chalitha Pushpika, Navinda Ranga

235 – N. Amarapadma

240 – D.M.P.P. Bandara

241 –G.M. Pradeep Kumara, R. Sureshan