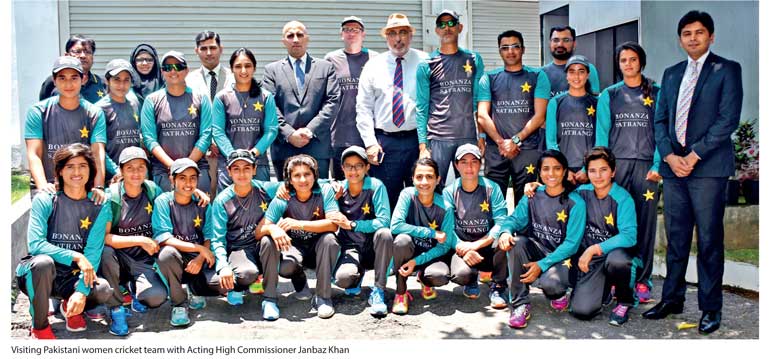 Pakistani women cricket team, led by captain Bisma Maroof, visited the High Commission of Pakistan in Sri Lanka yesterday (27).

The Pakistani cricket team is currently in Sri Lanka to play the qualifier round of ICC Women's Championship against their Sri Lankan counterparts, comprised of three one day international matches. Apart from the ODIs, both teams will also play a bilateral series of three T20 matches.

The Pakistani team has won all ODIs played at Dambulla, while the T20 series will be played at Colombo, with the first match taking place at the SSC on 28 March, the second at the NCC on 30 March and the final game at the SSC on 31 March.

While welcoming the team, the Acting High Commissioner, Janbaz Khan congratulated the Pakistani team for their splendid performance winning the ODI series. He expressed the hope that the players will do well in the games ahead and would contribute their best to win laurels for the country.

The Pakistan women cricket team members expressed their pleasure to be in Sri Lanka and felt immense love of the people of Sri Lanka, for Pakistan and its cricketing fraternity.