Trinity and Royal teams
By Shamseer Jaleel

The Old Boys of Royal College beat the Old Boys of Trinity College to claim the G.C. Wickremasinghe Challenge Trophy for 2018, the second time they have done so since the tournament began in 2016.

This event was held at the picturesque Victoria Golf and Country Resort (VGCR) at Digana on 4 May, the day before the second leg of the 74th Bradby Shield rugby encounter between Royal and Trinity. The Old Boys of Trinity College won the trophy last year but by securing the best nett score in the tournament the Kandy outfit won the G.C. Wickremasinghe Crystal Bowl for the third consecutive year.

The Royal outfit, led by Andy Anderson, secured a slender two-point lead over their rivals on the overall gross score, winning the coveted G.C. Wickremesinghe Trophy awarded in honour of Wickremasinghe, who represented Royal College in rugby and was a member of the famous Royal rugby team of 1951.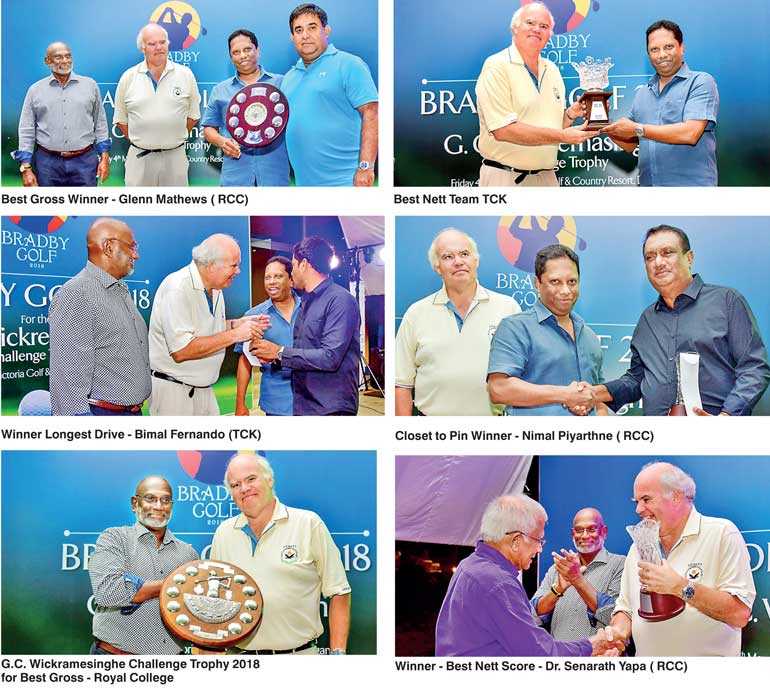 The winners:
The Longest Drive on 18th Winner -Bimal Fernando (Old Trinitians)
Closest to the Pin on 7th Winner - Nimal Piyarathne (Old Royalist)
Best Nett (Individual) Winner - Dr. Senarath Yapa (Old Royalist)
Best Gross (individual Winner - Glen Mathew (Old Royalist)
Best Nett Team Award - Old Trinitians
Best Gross Team Award -RCC (awarded with G.C. Wickramesinghe Trophy)
Skipper of the Old Royalists, Anderson, said: "We are extremely delighted to win the overall trophy this year. Our team was determined to win the tournament and we are glad we achieved it. The Old Trinitians were extremely competitive. I would like to thank the organisers and the Old Royalist and Old Trinitians for a splendid performance, great comradeship and we look forward to retaining the trophy in 2019." The captain of the Old Trinitians, Chandima Desinghe, said: "This year had higher participation by both teams and we expected a tight finish and that's exactly the case judging by the final result. My congratulations to Andy and the Royal outfit who emerged victorious. What was more encouraging was the great sportsmanship and participation by both these schools which enjoy a longstanding relationship in sportsmanship."