Three-time World Scrabble Champion Nigel Richards from New Zealand continued his dominance of the Sri Lanka International Open Scrabble Championships by winning the 7th edition held from 7-9 September at OZO Hotel Colombo.
66 players including 28 overseas players participated in the 24 round championship which was organised by the Scrabble Federation of Sri Lanka in partnership with the Sri Lanka Scrabble League.
Chollapat Itthiaree from Thailand came in as the 1st runner-up followed by Sherwin Rodrigues from India who became the 2nd runner-up. Thacha Koowirat (Thailand) was placed 4th whilst Goutham Jayaraman and Marlon Prudencio both from Singapore were placed 5th and 6th respectively. Sanjoy Guptha (India) was placed 7th with Tony Sim (Singapore), Udayan Grover (India) and Michael Tang (Singapore) completing the top 10 by being 8th, 9th and 10th.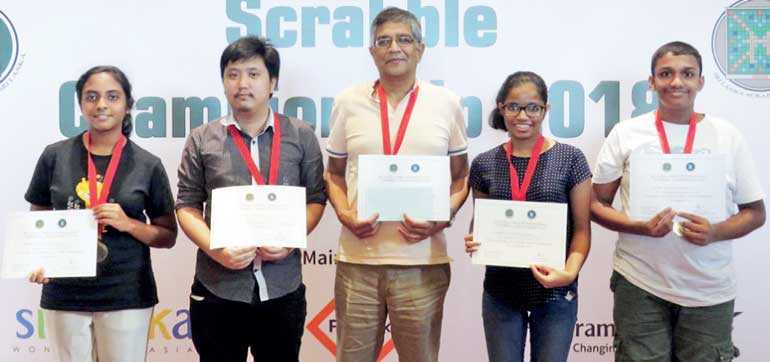 Aabid Ismail (Royal College) the defending WESPA Youth Champion was the highest placed Sri Lankan securing the 13th place. Radinka Dissanayake (Bishops College) was 15th and was the highest placed female player whilst Thirandi de Silva (Ladies College) was placed 16th. The trio together with Vignesh Pirapaharan (Lyceum International School – Panadura) who had the distinction of being the only player other than Chollapat to defeat the Champion Nigel Richards, are due to represent Sri Lanka at this year's WESPA Youth Cup in December 2018 in Dubai.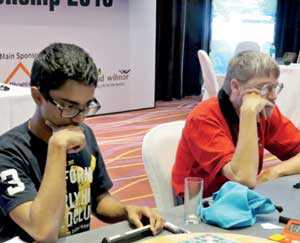 The highest game score was won by Yong Jian Rong from Singapore who score 694 points while the highest word score was won by Michael Tang for "PLINKERS" where he scored a massive 184 points.
The winners of the rating band prizes which were on offer for the best performers in each band were
Rating below 600 Nimuthu Witharana (Sri Lanka – Richmond College)
Rating between 600 - 999 Kalpana Seneviratne (Sri Lanka – Sacred Heart Convent, Galle)
Rating between 1000 – 1399 Radinka Dissanayake (Sri Lanka – Bishops College)
Rating between 1400 – 1799 Sanjoy Gupta (India)
Rating above 1800 Thacha Koowirat (Thailand) (Top 3 players not considered)
By the 14th round Nigel and Chollapat had obtained a 2 point lead over the rest of the field which they converted to 4 point lead by the 20th round resulting in them having to face each other in all the four King of the Hill games. Nigel won 3 of the 4 games to win the Championship with 20 wins.
The event was supported by the Ministry of Sports in Sri Lanka, where Scrabble is now a nationally recognised sport. The corporate sponsor for Scrabble for the second successive year was Phoenix Industries who have generously supported this and many other events during 2017 and 2018. Other sponsors were Sri Lanka Tourism and Pyramid Wilmar.