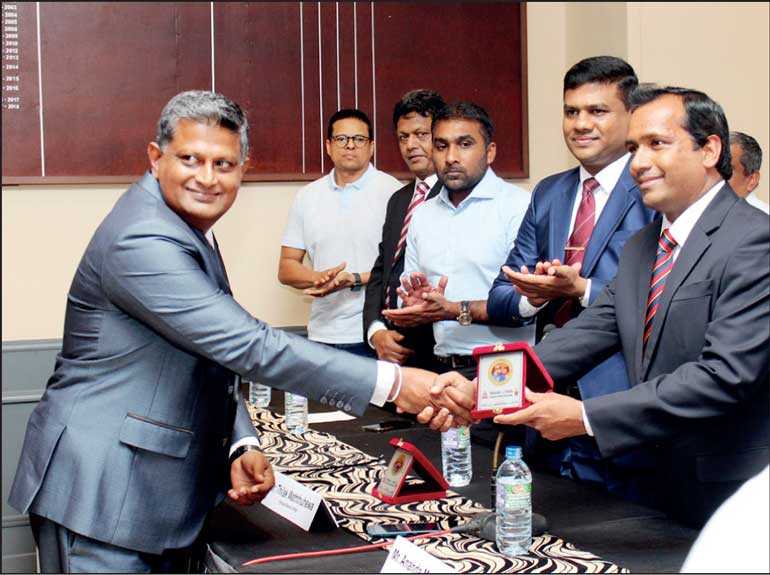 Janaka Periyapperuma awarding a plaque to Ananda Samarasinghe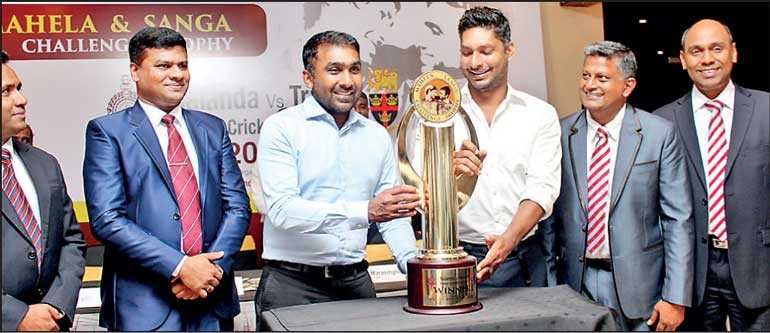 The trophy being revealed by Mahela Jayawardana, Kumar Sangakkara, Ananda Marasinghe, Thilak Waththuhewa, Janaka Periyapperuma and Sanjeewa Perera
---
Mahela Jayawardana and Kumar Sangakkara are two of the greatest cricketing legends Sri Lanka has produced. With many records between them, they have led Sri Lankan cricket to the furthest heights and stayed true to the spirit of the game, while remaining close friends even past their careers.

The annual cricket encounter between Nalanda College and Trinity College, respective alma maters of these masters of the gentleman's game, has been an annual fixture in the school cricket calendar since 1978. The 41st year of this encounter, named the 'Mahela & Sanga Challenge Trophy,' will be held this year on 28 and 29 December at the Nalanda College grounds.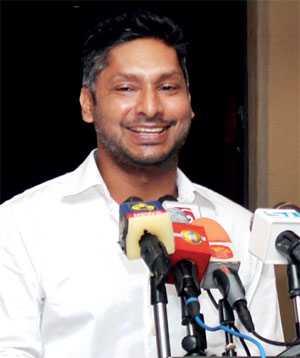 Kumar Sangakkara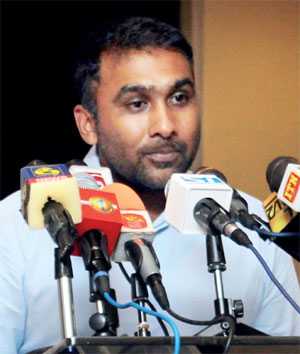 Mahela Jayawardana
The event is organised by the Nalanda College '88 Group of Old Boys along with the Nalanda College Old Boys Association and Nalanda College Past Cricketers' Association with the approval of respective Principals of the two schools.

Mahela and Sanga, as they are endearingly called by fans, have shown their willingness to contribute to society countless times. They have worked tirelessly to establish the spirit of the game in future generations even after they laid aside their pads and helmets. They have proved that despite being two extremely powerful personalities with equal expertise on the field, can work together for the team cause.

Addressing the press, Kumar Sangakkara said: "Both Nalanda College and Trinity College have shaped great players for the country. I am honored that our names have been chosen to name this trophy after… Sri Lankan school cricket has aspects that can be changed and further improved. Even so, I think it is currently in a very strong position."

Mahela Jayawardana remarked: "Our schools were our first mentors and guided us on our paths, especially in sports. We're always grateful to the great coaches we had in our schools, and I'd like to thank the old boys and principals for organising this trophy in our names."

That makes this encounter an excellent opportunity to build up the comradeship between Nalanda and Trinity College. The voices of these two phenomenal men are heard by a much larger crowd than their schools. As such, the 'Mahela & Saga Challenge Trophy,' while being a competitive encounter, promises to promote the spirit of cricket throughout the nation, and inspire young cricketers to not be mere players, but true gentlemen of the game.

Considering the contribution by these two greats and their respective alma mater in nurturing them to be what they are today, the event is fittingly tagged 'Spirit of Cricket Legacy for Future Generations'. The press conference was attended by Nalanda College Principal Thilak Watthuhewa, Trinity College Principal Andrew Fowler Watt, Mahela Jayawardena, Kumar Sangakkara, Nalanda College Old Boys Association President Sanjeewa Perera, Nalanda College Past Cricketer's Association President Upul Gamage, Trinity College Cricket Foundation President R.N.K. Nilantha Rathnayake and Nalanda College 88 Group of Old Boys President Janaka Periyapperuma.