By Madushka Balasuriya

The long-awaited National Olympic Committee elections are almost upon us. This Friday (23 February), Rohan Fernando will vie for the post of NOC President against Suresh Subramaniam.

Fernando and his 10-man team, which includes luminaries such as Amateur Boxing Association President Dayan Gomes and Head of the Athletics Association in SL Major General Palitha Fernando among others, are running on the anti-corruption platform 'Save Sports from Corruption'.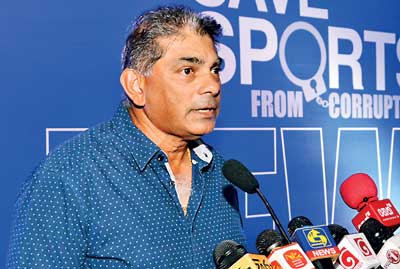 Subramaniam, meanwhile, is being backed by outgoing NOC President Hemasiri Fernando and General Secretary Maxwell De Silva, who himself is up for re-election.

Both Fernando and Subramaniam - Fernando in his capacity as President of the Amateur Rowing Association of Sri Lanka, and Subramaniam with regard to his work at the Sri Lanka Tennis Association - have extensive experience in sports and business administration. To win, either man simply needs to get a simple majority from the 33 NOCSL votes up for grabs. Both parties claim to have the votes needed, however, as voting will take place in a secret ballot, only on the day will true allegiances be revealed.

For Fernando and his team however, getting to an election was a victory in and of itself, seeing as there had not been one for the last 20 years.

"When we first started a lot of people said that we would never have elections - that was the perception. But we're very happy because we were persistent and now we're just three days away," said Fernando at a media briefing on Tuesday (20 February). "We started this process somewhere in September last year, with a team of 10 committed sports persons who were very much focused on having a corruption free, clean organisation for sports. We wrote a letter to the International Olympic Committee in Lausanne explaining the predicament that sports in Sri Lanka in general, and what the Olympic organisation in Sri Lanka was going through. Our several attempts resulted in the IOC giving a strong warning to NOC to get on with their job, to have the constitution adopted, and the election process started."

That small victory is what got Fernando and his team of well-wishers to where they are today, and as such, even in the case of defeat, he has vowed to continue their campaign towards a clean and transparent NOC.

"We have the accounts and we know there is corruption. If by some chance we lose, after the AGM, we hope and expect members to ask for an inquest into the claims that we have made, as well questions posed by the Auditor General. So on the request of the members, we will start a forensic audit into all the accounts. And for us it is more than just taking legal action, I think we all need to understand the seriousness of the corruption that has taken place," Fernando said.

Fernando also has the backing of Olympic Silver Medallist Susanthika Jayasinghe who, after years of her complaints falling on deaf ears, finally feels hopeful for a better future for athletics in the country.

"I believe the reason athletics is in such bad shape is because, even though we have smart and talented people in the system we don't have proper people to manage them. When I won Silver [at the Sydney Olympics in 2000] the plan was to create 10 more athletes like me; 18 years since then, and 10 since I retired, we have not seen anyone coming forward. There is no plan at the moment on how to bring talent to the global stage," said Jayasinghe. "But when I see this group before me I am hopeful something will be done. I've known them a long time, I know they are capable, and I hope they will take the right steps to improve and bring a new lease of life to athletics is Sri Lanka."

Subramaniam for his part has also spoken of his wish to improve the professionalism and transparency of the NOCSL, while at the same time uplifting member associations. However, with the ever present questions surrounding the financial improprieties, questionable transactions, and misappropriated funds under the last administration, the fact that Subramaniam is being backed by the very same individuals who have such dark clouds over their names does seem to give weight to his opponents campaign.

As Rohan Fernando put it: "On Friday, the sports federations will decide if people want an Olympic sports body with corruption or without."

-Pics by Upul Abayasekara