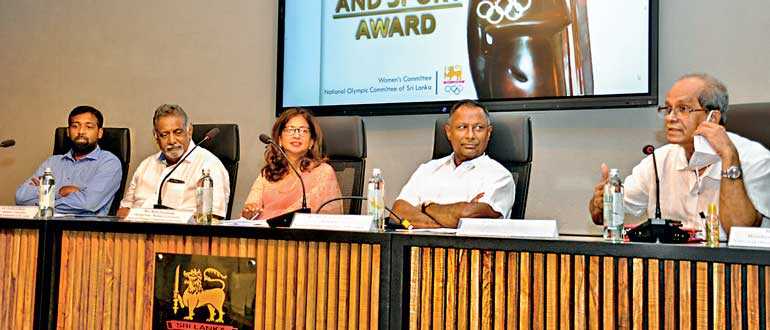 From left: Women's NOC Member S. Gobinath, Women's NOC Member S.R. Pathiravithana, Women's NOC Chairperson Niloo Jayatilaka, NOC President Suresh Subramaniam and NOC Secretary General Maxwell de Silva – Pix by Lasantha Kumara
---
The National Olympic Committee of Sri Lanka (NOC), on the direction the IOC, yesterday launched the Lankan leg of the "2021 Women and Sport Award" program, in pursuit of its goal to work on gender equality around the globe.

A communiqué released by the IOC says: "The IOC is, more than ever, committed to its mission to encourage and support the promotion of women in sport at all levels and in all structures. The annual IOC Women and Sport Awards present an important opportunity to recognise the women, men and organisations that are working towards gender equality in sport across the world.

"With your support, we will continue to advance gender equality in sport across participation, safe sport, portrayal, resource allocation and leadership, with a particular focus on reaching the minimum target of 30% women representation in all sport governing bodies.

"We encourage you to communicate your own ambitions and plans to advance gender equality in sport, and to actively support and foster gender equality champions and advocates within your organisation. In this spirit, it is our pleasure invites you to nominate a candidate for the 2021 edition of the IOC Women and Sport Awards."

The following individuals and organisations are eligible to receive the Awards:

Individuals – a retired athlete (i.e. an athlete no longer involved in elite competitive sport), an administrator, a coach, a journalist or writer, a sponsor or an academic.

Organisations – a National Olympic Committee (NOC), an International Federation, a National Federation, a Continental Association of NOCs or a sports club.