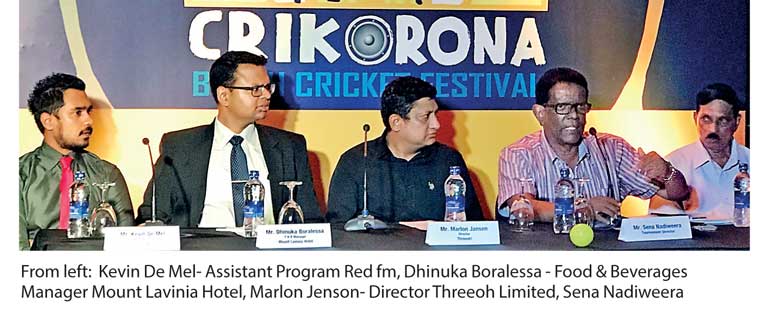 'Sunset Crikorona', the biggest beach cricket festival in Sri Lanka, organised by the Mount Lavinia Hotel, will be held at their Indian Ocean beachfront renowned for amazing evening sunset views, followed by a night of entertainment and great food at their 'Tropical Hut', one of the most popular hotel entertainment venues in Colombo, on 11 November.

The six-a-side cricket tournament will be played in a carnival atmosphere with the participation of 16 top blue-chip corporates in the country, with each team comprising five men and a woman.

The presence of Vertigo Girls, the internationally renowned Russian cheerleading squad, will add tremendous glamour to the tournament, which is to be played under simple and soft ground rules to bring fun to the players and audience. Participating teams are also encouraged to bring their own cheering squads to win prizes on the day.

Matches will get under way at 2.00 p.m. and progress amidst evening sunset views for which Mount Lavinia beach is famous for. Final matches, which will be played under lights, are scheduled to be over by 8.00 p.m. Afterwards the Sunsets Crikorona after party will kick off, extending the evening spirit of sportiness into a splendid night of fun and frolic.

The after party spectacular musical extravaganza will feature international DJs, Russia's famous female DJ Anya and Rapper MC Stef along with local DJ legends Jayy Vibes and Dimuth K, creating a glamorous and memorable night.

Complementing the correlation of sports and entertainment with harmonious food, world-class chefs from the Mount Lavinia hotel who are international culinary experts will prepare authentic Mexican cuisine, providing a great opportunity for food lovers to taste some of the finest Mexican food along with a selection of the best international breweries and unique cocktails.

This extravagant event will be staged in collaboration with airline partner Qatar Airways and radio partner Red FM. It will be co-sponsored by Gillete and is open to all fun-loving members of the general public as well with tickets priced at Rs. 1,000. It is certainly a big night not to be missed. For further details contact Oshada on 077-4101144.