CARNOUSTIE, Scotland (Reuters): Francesco Molinari kept the coolest head in Carnoustie as he steered a steady course through a wild afternoon of nailbiting tension at the British Open on Sunday to become the first Italian major champion.

With a strong breeze causing mayhem at the top of the leaderboard which a charging Tiger Woods had topped with nine holes to play, the 35-year-old Molinari buckled down to produce a flawless 69 and claim victory by two strokes.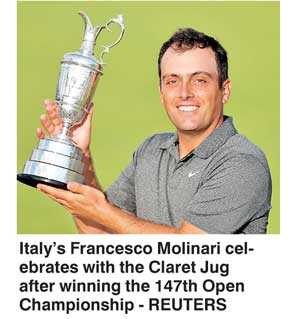 Overnight leaders XanderSchauffele and Kevin Kisner ended two shots back in four-way tie for second place with England's Justin Rose and Northern Ireland's Rory McIlroy.

Molinari ended a compelling four-day drama on eight-under 276 – the lowest combined score in the eight Carnoustie Opens.

Huge crowds descended on the seaside links and the majority were willing Woods to claim a fairytale 15th major a decade after his last one. But it was the American's playing partner Molinari who wrote his own script to claim his major breakthrough at the 36th time of asking.

With defending champion Jordan Spieth, Woods, English duo Rose and Tommy Fleetwood and McIlroy in the Sunday mix, the Molinari sub-plot was almost overlooked as the leading groups went out.

Yet his recent form, two wins and two runners-up finishes in his last five tournaments, should have served as a warning on a day when a steady hand was needed on the tiller.

While Spieth, Schauffele and Kisner endured a rollercoaster ride across the sun-blasted links, as if spooked by the presence of a resurgent Woods, Molinari cranked out 13 consecutive pars before making his move.

He rolled in a birdie on the par-five 14th to move into the lead on seven-under.

With Rose and McIlroy in the clubhouse on six-under, Schauffele fought back from a 40-stroke outward nine to get to seven-under but Molinari was unflappable.

Carnoustie's 18th hole has witnessed its fair share of horror shows but Molinari safely negotiated the snaking Barry Burn with his tee shot before planting his second to six feet. Molinari was a picture of calm as he walked up to his putt and only after it disappeared into the cup did he allow his mask to slip – turning to punch the air.

The most anxious he looked all day was sitting watching Californian Schauffele play the 17th and 18th.

When Schauffele's par putt stayed out on the 17th the Italian puffed out his cheeks knowing only an eagle for the American at the last could deny him.

The moment Schauffele's approach stopped short on the 18th green the celebrations could start.

"It is absolutely amazing," Turin-born Molinari, who went bogey-free from the 17th hole of his second round, said.

"The course bit me a few times the first couple of days, but then to go bogey-free over the weekend on a course like this is incredible. For the first time I felt like I was ready for it.

"Playing with Tiger makes it even more special. I couldn't have written it any better."

Molinari broke a sequence of five majors won by Americans and for a while Woods looked like making it six.

In his trademark red shirt the 42-year-old looked in complete control as he birdied the fourth and sixth holes.

He reached the turn in 34 strokes and with Spieth and Schauffele imploding a few holes back Woods was suddenly clear at the top of the leaderboard on seven-under.

A miss-hit flop shot at the 11th ended cost him a double-bogey that stopped him in his tracks and although he birdied the 14th to stay in the hunt he fell just short, finishing in a tie for sixth on five-under.

Spieth's hopes of emulating Woods by winning the Claret Jug for a second successive year withered away as he slumped to a final-round 76 on a desperately hard scoring day.

He had looked assured as he began with four pars but a bogey at the fifth rattled him and the wheels fell off when a trip to a gorse bush ended with a double-bogey at the sixth.

McIlroy had struggled to make any headway but when he eagled the 14th he rocketed to the top of the leaderboard.

Rose also eagled the par-five 14th – the only hole that was offering any gifts as a course so docile on Saturday bit back.