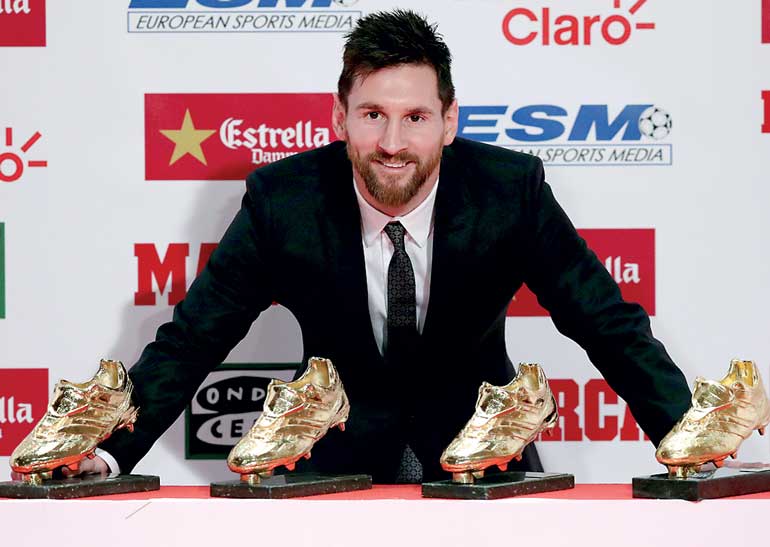 Barcelona (Reuters): Lionel Messi said he understood the importance of resting occasionally in order to stay ripe for the end of the season as he accepted the European Golden Shoe award on Friday for being the top scorer in the continent last season.

The Barcelona striker had played every minute of their season in the Liga and Champions League until left out of the starting line-up against Juventus on Wednesday, four days before Sunday's top-of-the-table showdown at Valencia.

Messi came on for a very rare appearance as a substitute in the second half as Barca drew 0-0 with the Serie A champions to seal their place in the last 16 of the Champions League as group winners.

Messi told reporters: "Every time I'm on the bench, there's a lot of commotion because I usually play, I don't like sitting out, I like to participate and help from the inside.

"But I understand it's a long season and that I have to look after myself more because the seasons keep getting tougher."

Messi, who turned 30 in June, has been instrumental in Barca's fine start as they also fly high in the Liga and can strike an early blow in their bid to reclaim the title when they visit Valencia.

A win at Mestalla would see Ernesto Valverde's side stride seven points clear of Valencia, their nearest challengers, while staying at least 10 points clear of champions Real Madrid and Atletico Madrid.

"We are at the early stage of the season but Valencia have a good squad, a great coach who is doing well, he has clear ideas about his team and they know exactly how they want to play," added Messi.

"They have the advantage that they only play once a week so it's a very difficult game for us, even more because it's at their place, but we'll go there with lots of enthusiasm and we'll go all out to win the game."

Messi received the European Sports Media Golden Shoe for the fourth time in his career after hitting 37 league goals last season, collecting it from his team mate Luis Suarez, who won it last year with 40.

Messi also won the award for 2009-10, 2011-12 and 2012-13.