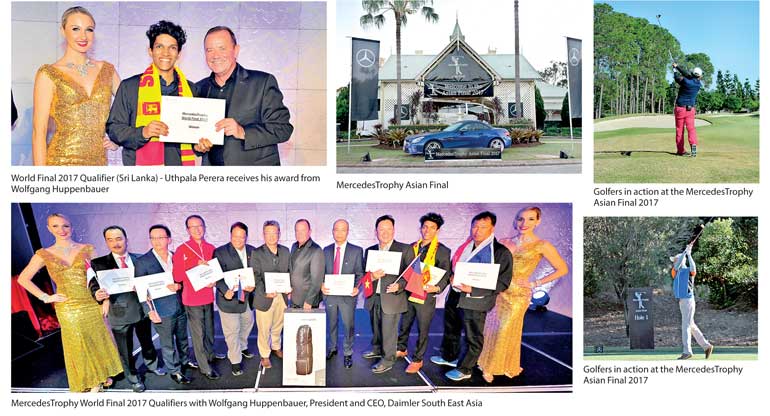 Over 60 of the region's best amateur golfers descended on the Sanctuary Cove Golf & Country Club in Queensland, Australia for this year's edition of the Mercedes Trophy Asian Final.

A fine display of the golfing talent Asia has to offer, the tournament is the penultimate stage towards the series climax - the MercedesTrophy World Final in Stuttgart, Germany this October.

It is where the top player from each of the nine participating countries in the Asian Final, namely Hong Kong, Indonesia, Malaysia, the Philippines, Singapore, Sri Lanka, Taiwan, Thailand and Vietnam, will represent Team Asia to cross clubs with other ace amateur players from across the world. In addition to the tournament itself, participants of the World Final will be treated to a five-day exclusive program which meets the brand's highest standards. This includes an inside look into the world of Mercedes-Benz, which is perfect given Stuttgart's moniker as the 'birthplace of the automobile'.

"We may hail from different countries in the region, but it is our shared love for the game that binds us," said Uthpala Perera, the top player of Team Sri Lanka. "What a privilege it is for me to be part of Team Asia. I hope to do this region proud at the upcoming MercedesTrophy World Final."

Held from 8-12 August, the MercedesTrophy Asian Final also featured a unique 'Drive to the Major' competition specially catered for Mercedes-Benz customers.

This year's winner, Areenan Sirikuntangapong, was awarded a Business Class flight to watch the 2018 Open Championship in Carnoustie, Scotland, where she will also get a once-in-a-lifetime chance to qualify for the legendary 'Monday After Tournament'.

Off the greens, guests took to the racetracks at the Mt Cotton Training Facility for an exhilarating Mercedes-Benz Driving Experience led by a team of professional drive instructors, and enjoyed a private dinner with panoramic views of the city atop the iconic SkyPoint Observation Deck.

"The level of competition and skill amongst players at the MercedesTrophy Asian Final never fails to surge year after year," said Mercedes-Benz Singapore President and CEO Wolfgang Huppenbauer. "This is a true testament to the degree of talent from the region. I am confident that Team Asia will put on a great show when it takes Stuttgart at the World Finals this autumn. Congratulations to all winners, including Team Taiwan for taking home the Nation Cup!"

The MercedesTrophy is a worldwide premium tournament series for amateur golfers, which sees the participation of over 60,000 players from across 60 countries each year. It remains a core component of the Mercedes-Benz's global golf involvement and an annual celebration of a shared dedication to the perfect drive.