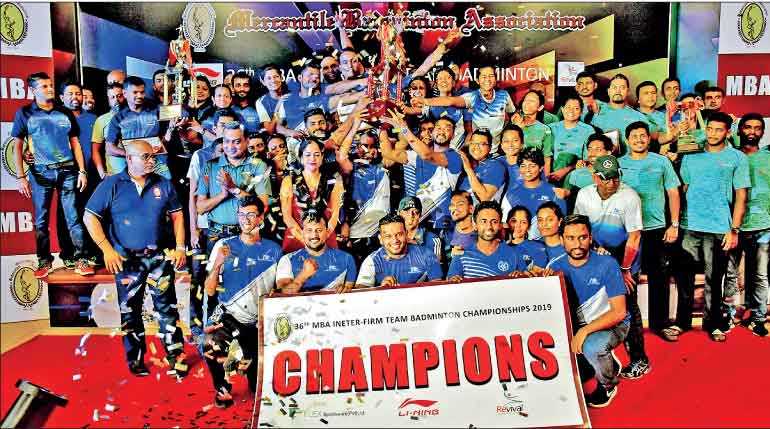 Youth Olympic medallist Sachin Dias and former national champion Achini Rathnasiri won the men's and women's 'A' Division Best Player Awards respectively as their team, McLarens Holdings, bagged major honours at the 36th MBA Inter-Firm Team Badminton Championships 2019, which concluded over the weekend.

Teams representing McLarens Holdings won the overall championships in a whopping eight categories during the event, which was organised by the Mercantile Badminton Association under the supervision of Sri Lanka Badminton.

Overall champions McLarens bagged 325 points, 188 more than their closest rivals HNB, who were placed second in the final standings after winning the Over-35 Women's, Over-40 Men's – 'A' Division, Mixed 'B' and 'C' Divisions, Women's 'A' and 'C' Divisions as well as the Men's 'A' and 'B' Divisions.

McLarens' shuttlers Kaushali Dissanayake (Over-35 Women), Upendra Jayawardene (Team 'A' – Over-40 Men's – 'A' Division), Hasini Ambalangodage (Women's 'C' Division) and Kasun Amarasena (Men's 'B' Division) also won individual awards after being named the Most Outstanding Players in their respective groups.

The tournament, which is one of the biggest events on the country's badminton calendar, saw more than 1,800 players representing 220 teams from 57 companies competing for 31 titles.

The two-week long tournament also saw 1,100 matches being held.

The event was sponsored by LINING Flex Sportsware Ltd. and Revival Physical Medicine Centre.

McLarens Group Joint Managing Directors Dinesh Jayawardana and Shehara Jayawardana were the Chief Guests at the awards ceremony on the final day of the tournament. Flex Sportware Ltd. Managing Director Sanjeewa Akuratiya and Revival Physical Medicine Centre CEO Rajini S. Jayatilake were the Guests of Honour.
Team champions:

Over-50 Men: SriLankan Airlines

Over-35 Women: McLarens Holdings

Over-40 Men – C3 Division: Douglas and Sons

Over-40 Men – C2 Division: IFS

Over-40 Men – C1 Division: JKH Team B

Over-40 Men – 'B' Division: Hayleys

Over-40 Men – 'A' Division: McLarens Team A

Mixed H Division: DFCC

Men's H4 Division: 99 X Team A

Men's H3 Division: Emerchemie NB

Men's H2 Division: David Peiris

Men's H1 Division: MAS Intimo

Mixed 'G' Division: JKH

Men's 'G' Division: CDB

Mixed 'F' Division: JKH

Men's 'F' Division: People's Leasing

Mixed 'E' Division: Union Bank

Women's 'E' Division: Allianz

Men's 'E' Division: Brandix

Mixed 'D' Division: Commercial Bank

Women's 'D' Division: Brandix

Men's 'D' Division: IFS

Mixed 'C' Division: McLarens

Women's 'C' Division: McLarens

Men's 'C' Division: NTB

Mixed 'B' Division: McLarens Team D

Women's 'B' Division: Akbar Brothers

Men's 'B' Division: McLarens

Mixed 'A' Division: HNB

Women's 'A' Division: McLarens Team A

Men's 'A' Division: McLarens Team A
Individual champions:

Over-50 Men: Udaya Weerakoon (SriLankan Airlines)

Over-35 Women: Kaushali Dissanayake (McLarens Holdings)

Over-40 Men – C3 Division: Nalin Janaka (Douglas and Sons)

Over-40 Men – C2 Division: Hiruna Dissanayake (IFS)

Over-40 Men – C1 Division: Deepal Silva (JKH Team B)

Over-40 Men – 'B' Division: Roshan Fernando (Hayleys)

Over-40 Men – 'A' Division: Upendra Jayawardene (McLarens Team A)

Men's H4 Division: Ashen Fernando (99 X Team A)

Men's H3 Division: Chanaka Madushanka (Emerchemie NB)

Men's H2 Division: Dinesh Upendra (David Peiris)

Men's H1 Division: Alvin Fernando (MAS)

Men's 'G' Division: Pubudu Mallikarachchi (CDB)

Men's 'F' Division: Isuru Sampath (People's Leasing)

Women's 'E' Division: Sachini Anushika (Allianz Insurance)

Men's 'E' Division: Amila Malinga (Brandix)

Women's 'D' Division: Sujani de Costa (Brandix)

Men's 'D' Division: Chamila Wijesinghe (IFS)

Women's 'C' Division: Hasini Ambalangodage (McLarens)

Men's 'C' Division: Didula Sahabandu (NTB)

Women's 'B' Division: Hasini Perera (Akbar Brothers)

Men's 'B' Division: Kasun Amarasena (McLarens)

Women's 'A' Division: Achini Rathnasiri (McLarens Team A)

Men's 'A' Division: Sachin Dias (McLarens Team A)