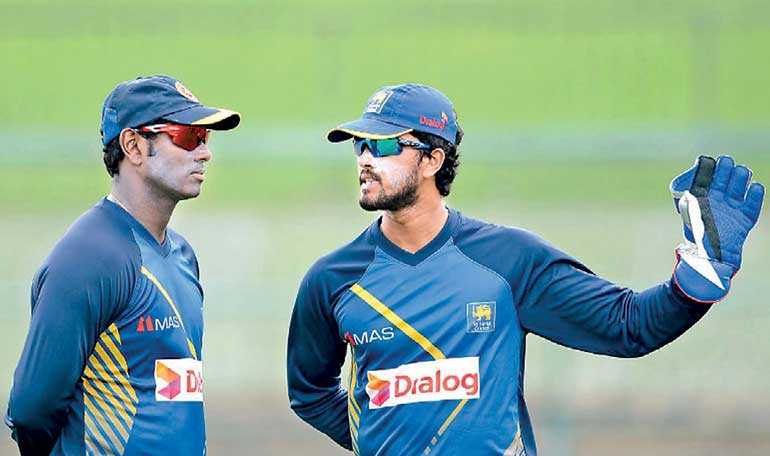 Angelo Mathews and Dinesh Chandimal
---
By Sa'adi Thawfeeq
---
Former Sri Lanka captains Angelo Mathews and Dinesh Chandimal have showered praise on the upcoming My11Circle Lanka Premier League (LPL) that is due to take off on 26 November at the Mahinda Rajapaksa International Cricket Stadium in Sooriyawewa.

"The LPL is something which is essential for Sri Lanka. If you take the rest of the countries, almost all of them have a similar league going in their country," said Mathews, who will lead the Colombo Kings in the opening match of the tournament against the Kandy Tuskers.

"This is a great opportunity for our young cricketers and also all the cricketers to mix with some of the top and experienced cricketers from around the world and share the same dressing room and learn a lot from them," he said.

"We have a very good squad of players, including some experienced cricketers and some overseas players. All the other competing teams also have strong sides and I look forward to a keenly fought out contest," he added.

Chandimal, who also represents Colombo Kings as their wicket-keeper batsman, said that he is extremely happy a tournament of this nature is taking place.

"We must especially thank Sri Lanka Cricket, the health authorities, the Defence Services and the Police. It is because of their efforts that we are able to conduct this tournament.

"Not only to us, but to the whole world this is a good example that during the time of a pandemic, a tournament of this nature is about to take place. It is a good opportunity for our cricket fans who have been starved of cricket, to watch some cricket being played," Chandimal said.