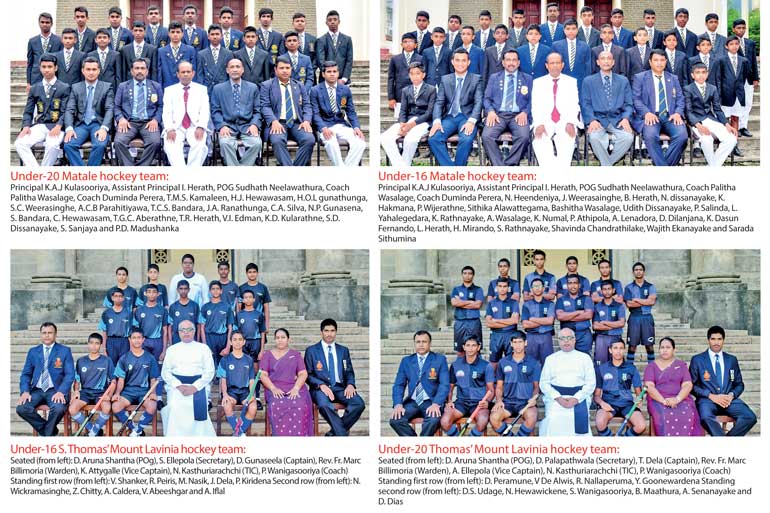 The hockey city of Matale will come alive on Sunday, 1 October when the third big hockey event between St. Thomas' College Matale and S. Thomas' College Mount Lavinia, which is jointly sponsored by Nations Trust Bank and Ceylinco Life Insurance Plc will be played at Edward Park Matale at 4.00 p.m.

Prior to this big event, the juniors and old boys hockey matches will be played at 2.00 p.m. and 3.00 p.m. This will be preceded by the 'Thomians› Hockey Walk' from the Matale Thomians› school to the venue of the match.

The Matale Thomians, known for their prowess in hockey, should have the edge but the Mount Lavinia Thomians› are famous for their 'Thomian Grit' and will fight every inch of the way. Hockey is the forte of the Matale Thomians while the boys from the school by the sea are reputed for cricket, rugby and other games like table tennis, badminton, water polo and swimming.

Both leading hockey playing schools have produced top hockey players who have represented their alma mater and country with distinction. Some of the players who played for St. Thomas› Matale are the Wijekoon brothers - Herbert, Douglas, Ranjith, Chandra, Asanga and Sajith, M. Fuard, Tissa Attipola, Pius Nanayakkara, Sunil Deegahawatura, Ranjith Alahakoon, Sarath Wimalasinghe, C.K. Hulangamuwa, Dr. R. Mahendran, Indrawansa Herath and Eric Hulangamuwa.

Sri Lanka has produced only nine international umpires so far and four of them are from St. Thomas, Matale. They are Jayampathi Perera, R.S. Somasekaram, Indrawansa Herath and D.R.B. Dissanayaka.

S. Thomas› Mount Lavinia also produced top national players of the calibre of Chandra Schaffter, Dr. Sarath Senavirathne, Anura Tennakoon, Ishak Shahabdeen, D. Bandaranayake, Orville Abeynaike and his sons Ranil, Ajith and Amitha, Laxshman Watawala, Michael Tissera, K. Abeysekara, Gamini and Navin Marapona (father and son), Avindra De Silva, Surean Wjeratne, Dinesh Wickremasinghe, Tivanka Wijeratne and Pujitha Walpitagamage to mention a few.

S. Thomas› College Mount Lavinia is an Anglican school which was founded by the first Bishop of Colombo, Rt. Rev. James Chapman D.D. It was his foremost vision to build a college and cathedral for the new diocese of Colombo of the Church of Ceylon. The school was founded in 1851 AD and named S. Thomas› College and was a private fee levying school. It has one of the most beautiful schools in Sri Lanka and its current Warden is Rev. Marc Billimoria, a keen promoter of sports.

St. Thomas› Matale was founded in 1873 AD. Initially it had on roll 75 boys and 17 girls. Mr. Emmanuel was its first headmaster and the school was run with funds from St. Thomas› Church. Three years later a major change was brought about and the school was separated with a girls section known as St. Agnes Convent.

In 1897 the school gained the status of an assisted school from the Government. The school took a giant step forward when the famous late Charles Robinson was appointed Principal in 1923. In 1936 the game of hockey was introduced. Robinson served as principal of the school for 35 years till his retirement in 1958. Since then many principals have served the school. In the early sixties the school was taken over by the State. The current principal is K.A.J. Kulasooriya.

St. Thomas› Matale first XI team is led by T.M.S. Kamaleen and the Under-16 team by S.D. Dissanayake. T. Della leads the first XI team of STC Mount and the Under-16 team is led by D. Gunaseela.

The special guests for the occasion will be Palitha Kohona - former Ambassador of the United Nations and former Secretary to the Foreign Ministry; Kapila Widiayaratne - Secretary to the Defence Ministry; Major General Shawendra De Silva - Adjutant General Sri Lanka Army; Anura Dissanayaka - Secretary to the Mahaweli Ministry; R. Renganathan - CEO and Managing Director Ceylinco Life Insurance; Wasantha Wijesinghe - DGM Ceylinco Life; Menaka Wavita - Chief Manager, Emerging Markets Nations Trust Bank; Chandana Dodanwela - Senior Manager Emerging Markets, Nations Trust Bank and President's Counsel Mohan Weerakoon.