MANCHESTER, England (Reuters) - Manchester United manager Jose Mourinho suggested he needs bigger investment from the club if he is to be able to produce the kind of team that will challenge Manchester City for titles.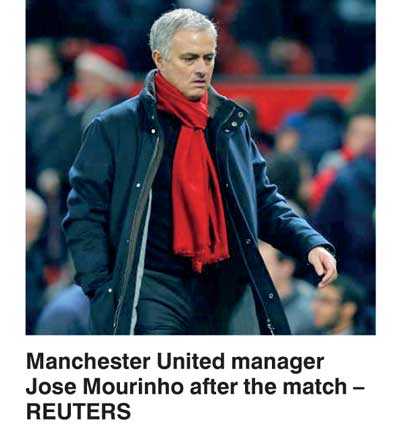 After two second-half goals from Jesse Lingard gave United a point from a 2-2 draw at home to Burnley Mourinho was asked about the fading title challenge.

City, who play at Newcastle United on Wednesday, are 12 points clear of United who have picked up eight points from the last 15 available.

Mourinho was reminded that United have invested around 300 million pounds ($401 million) on players since he took charge of the club and leapt upon the comment.

"Ok, it is not enough. It is not enough. The price for the big clubs is different for the other clubs. The big historical clubs they are normally punished in the market for their history," he said.

"The boys are doing what they can and they are doing fine. You say eight points from 15, I say last two matches we have 15 chances to score and we concede three goals and an amazing free kick. The boys do what they can. They are trying hard with the injuries we have. I am not happy with the result. I was not happy with the result against Leicester," he said.

United's big investments have included midfielder Paul Pogba for 89 million pounds and striker Romelu Lukaku for 75 million.

Asked whether such form was good enough for a big club like United, Mourinho appeared upset that his club was being held to different standards.

"When you tell a club like Manchester United, you think (AC) Milan is not as big as us? You think they are not as big as we are? You think Real, Inter Milan is not as big as we are?