ESPNCricinfo: Sri Lanka have "lost a generation" of cricketers from the national fold, and cannot afford to do so again. Fresh from having presided over Sri Lanka's largest ever runs defeat in ODIs, stand-in captain Lasith Malinga delivered the aforementioned grim diagnosis.
Lasith Malinga
Malinga's argument is this: where for most of his career he has played in teams comprising mostly of experienced players, he now finds himself in a side where very few have more than 50 ODIs on their record. Eight of Thursday's XI, for example, have played 37 ODIs or fewer. Of those, a stunning five have played fewer than 10 ODIs.

Partly, this is the result of a rash of injuries, but also Malinga says, the failure of a generation of Sri Lankan cricketers.

"What I personally think is that our problems are because we lost a generation of players," Malinga said after the 168-run defeat to India on Thursday. "If that generation was here, we wouldn't have an inexperienced team like this at international level. We had players like Chamara Silva, Thilina Kandamby, Jehan Mubarak, Malinga Bandara, Kaushal Lokuarachchi, Kaushalya Weeraratne, Tharanga Paranavitana and Malinda Warnapura.

"Those players played about 10 years of domestic cricket by the time they were 29 or 30, and played internationals for two or three years, and then they were out of the international scene. We lost that 10-12 years of experience from them. It's really hard to get that experience from a fresh-out-of-school cricketer or a club cricketer."

Malinga, in fact, was one of only four cricketers over the age of 30 in Thursday's XI. Of the other three, Malinda Pushpakumara was making his ODI debut and another, Milinda Siriwardana, was playing his 20th ODI. Only three years ago, Malinga was playing in a side featuring the likes of Mahela Jayawardene, Kumar Sangakkara, Tillakaratne Dilshan, and Rangana Herath.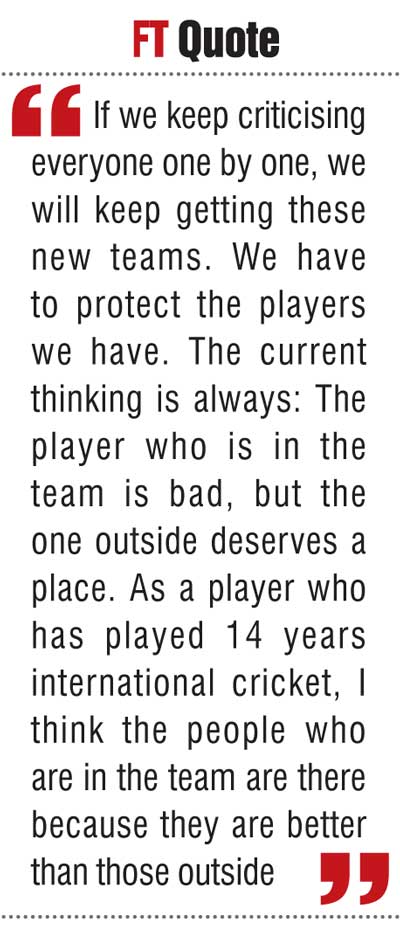 "In previous teams, you had players who had played a 100 ODIs, or at least 50 ODIs," Malinga said. "When I started playing in 2004, there were seven or eight experienced players in the team. A few years ago we lost that. Now our cricket has declined. We need that – every other team in the world has that experience in their XI."

Like several coaches and management staff, Malinga believed Sri Lanka's present squad has the ability to become a good team. He prescribed a stable selection policy as perhaps Sri Lanka's best route back to competitiveness.

"A lot of our players are inexperienced at international level, but they get their places because they perform at domestic level," he said. "I think if we gave some chances to the young players here, we will get players who can play for a long time. If we can give them experience to the team that goes to the 2019 World Cup, then you will have players who have played 30-50 ODIs.

"If we keep criticising everyone one by one, we will keep getting these new teams. We have to protect the players we have. The current thinking is always: 'The player who is in the team is bad, but the one outside deserves a place.' As a player who has played 14 years international cricket, I think the people who are in the team are there because they are better than those outside."

On his own future, Malinga has given mixed signals. While before this match he suggested he would play for some time yet, even jesting that he would be around until 2023, he raised the possibility of retiring even this year, after this match had been lost. He claimed his 300th ODI wicket in this game, when he had Virat Kohli caught at deep point.

"In the Zimbabwe and India series I couldn't play well. I'll see where I'm at after this series, and evaluate how long I can play given the way my body is. No matter how experienced I am – if I can't win a match for the team and do what the team needs, there's no point in me being here. If I can't deliver that, then I'll happily retire."