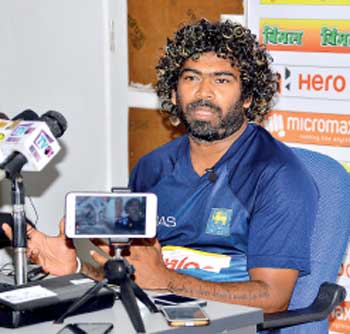 By Madushka Balasuriya

A bullish Lasith Malinga said Sri Lanka were in a "good mental state" ahead of their fourth ODI against India in Colombo today.

The Lankans, who are yet to win a single game in the series after being whitewashed 3-0 in the Test series and are facing an unassailable 3-0 deficit in the ODIs, need to win the next two matches if they are to secure automatic qualification for the 2019 World Cup.

However, speaking on the eve of the game, stand-in captain Malinga was not concerned about the results leading up to the game, noting that his side were in a good frame of mind.

"Between the 15 of us and the management, there have been no mental setbacks. No matter what the news around the team is, our goal is to do our jobs well. Our mentality is good. These aren't problems for us. We are in a good mental state."

Malinga is Sri Lanka's third captain in as many matches, after Upul Tharanga was suspended and Chamara Kapugedara was withdrawn due to a back injury. The veteran however refused to be drawn on the furore surrounding the captaincy, instead turning his focus to steering his young charges to victory.

"I don't really need to think about who captained the past matches. Those things have already happened. They've given me the next match. So I will look forward to carrying out that duty. The cricket I've played and the cricket knowledge that I have, I will pass that on to the younger players," said Malinga.

"There's no shortage of talent and skill in our team, but there is a shortcoming in how we execute that. We need to fix our mentality. My main goal is to try and instill a mentality whereby players are able to deal with tough situations and persevere. If that is successful, we will be able to get a good result tomorrow."

This is the first time Malinga will take the reins of the ODI side though he had previously captained Sri Lanka's T20 side - most notably during Sri Lanka's the World T20 win in 2014. Asked to speak on the differences between that side and the rather less successful present one, he urged patience with the current crop of players.

"The past Sri Lankan team had experienced players. We can see every other country which is playing national cricket worldwide has a high number of experienced players in their XI. At the moment we don't have that luxury. But we've had a few talented young players in Sri Lankan cricket. That's why we want to back them.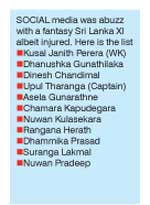 "The past is the past. But now we have some good young players. We want to give our experience to them. Then I feel they will do better for us over the next few years."

Malinga also brushed aside any fears that he would be feeling any pressure taking over a side in such a poor stretch of form.

"I don't recognise pressure. I've played with pressure more than enough times. I've bowled under pressure plenty of times. If there is pressure that means you don't know what to do in a particular instance – and you don't have the ability to do what's required. Pressure means I don't know what to do in that instance. The team and I have to build a mentality whereby we don't feel pressure."