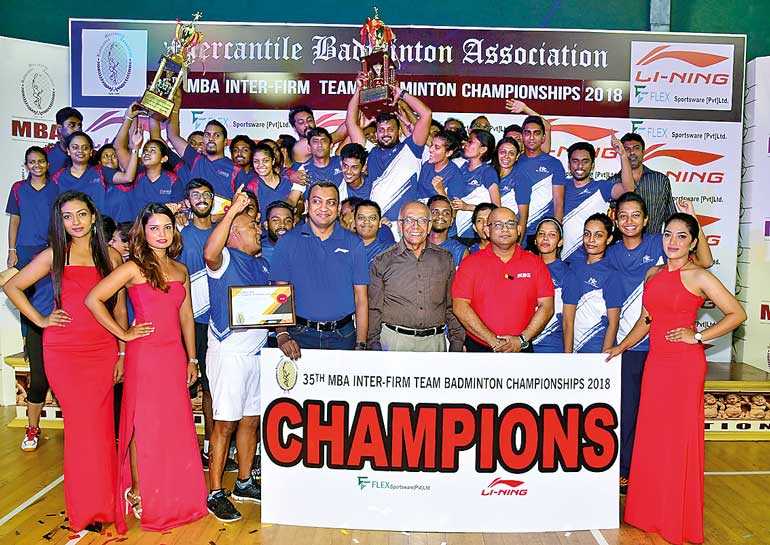 Final Overall Champs McLarens accompanied by Mercantile Badminton Association President Roshan Fernando, Sports Minister Faiszer Musthapha and Flex Sportsware Ltd. Managing Director Sanjeewa Akuratiya
McLarens crowned Overall Champions
The 35th MBA Inter-Firm Team Badminton Championship 2018 was worked off at the Mercantile Badminton Courts over a period of six weeks recently.

Organised by the Mercantile Badminton Association, the tournament saw the participation of more 237 teams representing 59 companies, which also included 50 national players. The event was sponsored by Flex Sportswear Ltd.

The awards ceremony, which was held on 28 October, was attended by Sports Minister Faiszer Musthapha, Public Relations Officer to the President W.G.S. Thilina Wewelpanawa, Flex Sportsware Ltd. Managing Director Sanjeewa Akuratiya and Mercantile Badminton Trust President Gamini Jayasuriya.

After a grueling six weeks of matches, the finals in all categories were played on 28 October in the morning. Both the men and women of McLarens Holdings won the Masters (Over 50) MBA Challenge trophies. The Men's Veterans C3 was won by SriLankan Airlines while the C2 was won by Dialog Axiata Plc and C1 by McLarens.

Men's Veterans 'B' Division was won by Asia Securities while the 'A' Division Championship for the LankaBell Trophy was won once again by McLarens. The Men's 'H4' Division Ceylinco General Challenge Trophy was won by Carsons/Luxury Brands, while the MKG Challenge Trophy for the Men's 'H3' Division went to Glaxco and the 'H2' Division to DFCC Bank. The Mahesh Makalanda and Samantha Jayawardena Trophy for the Men's 'H1' Division went to A&E. Laugfs Holdings won the Men's 'G2' while the Men's 'F' Division was won by Expo Lanka.

Moving on to the women's tournament, the Douglas and Sons Challenge Trophy for the Women's 'E2' Division and the Janaka Gamage Challenge Trophy for the 'E1' Division was won by MAS while the Men's trophy in the same division went to Union Bank Plc. The Fine Enterprise Challenge Trophy for the Women's 'D' Division went to Millennium IT and the 'C' Division was won by Akbar Brothers. The 'B' Division Shiranthi Meddegoda Challenge trophies for men and women also went to McLarens while the P. Silvalingam Challenge Trophy for the 'A' Division was won by McLarens.

The Mixed 'A' Division went to MAS while McLarens won the 'B' Division Mixed and 'C' Division were won by National Development Bank. Many of the individual best player awards also went to players from McLarens Holdings resulting in the Final Overall Championship also being awarded to them.